Demo Perle's Managed Converter Chassis Live and Online!
See what a Managed Converter Chassis from Perle can do from the comfort of your chair. With an Internet browser, you can navigate around our management screens and see why it is the easiest and most powerful management Media Converter and Ethernet Extender system on the market !
An MCR-1900 chassis, with an MCR-MGT management module and a number of Managed Media Converters, and Managed Ethernet Extenders, are available for you to access with one of our sales engineers as a guide. Authentication is managed by a Cisco ACS TACACS+ authentication server.
Because the MCR-MGT Management module is connected directly to the Internet, access is restricted to authorized users only. Please register below, by submitting this form you are requesting a demo of our product with a Perle sales engineer.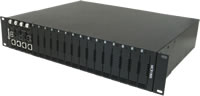 ---
* Required Fields
Perle respects your privacy and is committed to protecting it. We do not rent, sell, loan or trade this information. We will abide by the policies laid out in our Privacy Policy when receiving and responding to requests made through this form.