Modbus to Ethernet Converters & Gateways
Connect Modbus RTU or ASCII devices to Modbus/TCP Networks
Modbus is a serial protocol commonly used in industrial automation by equipment such as SCADA, HMI, OPC Servers, PLC's, RTU's, and HMI's. It comes in 2 formats;
Modbus ASCII ( each data byte converted to 2 ASCII characters )
Modbus RTU ( 8 bit data )
The Modbus protocol contains device (host) addressing and enables communication between multiple entities on the same serial (i.e., RS485) line. Modbus masters poll modbus slaves to send and retrieve information. As technology evolved, the Industrial Automation industry created the Modbus/TCP protocol to enable direct attachment of equipment over Ethernet. Equipment with an Ethernet COM port and support for Modbus/TCP can be used on standard Ethernet networks providing interconnection over greater distances and with more flexibility.
However, there is valuable equipment installed that have serial modbus COM ports. Network Administrations need a way to connect these Modbus serial devices to Modbus/TCP or Modbus/UDP compliant hosts over Ethernet. Perle IOLAN Device Servers are the solution.
IOLAN Modbus Gateway Functionality
A Perle IOLAN Device Server connects devices with RS232, RS422, or RS485 serial interfaces to a local area network for transmission of Modbus RTU or ASCII data over Ethernet. With a physical wired or wireless (LTE or WiFi) Ethernet connection on one side, and one or more serial ports on the other side, Device Servers enable network access to attached devices as if they were locally connected to the serial port. IOLAN Device Servers make M2M communication possible in a wide variety of applications to convert Ethernet Modbus/TCP to or from serial Modbus RTU/ASCII.
Defined at the port level, Perle IOLAN's can operate as either a Modbus Master Gateway or a Modbus Slave Gateway.
The Modbus Gateway function can operate with equipment across TCP or UDP.
Both Modbus RTU and ASCII forms of the Modbus protocol are supported
As a master gateway, up to 248 UID's are addressable per master gateway configured serial ports. E.g., 2 serial ports configured as master gateways can have up to 2 x 248 = 496 addressable slaves on the IP network
As a slave gateway, up to 248 UID's per unit addressable from an IP network
Operate in 0°C to 55°C (32°F to 13°F) or -40°C to +74°C (-40°F to +165°F)
Desktop, Wall, or DIN Rail mount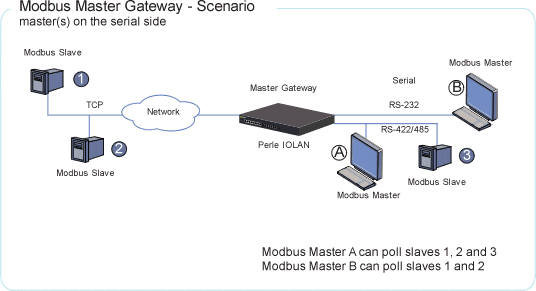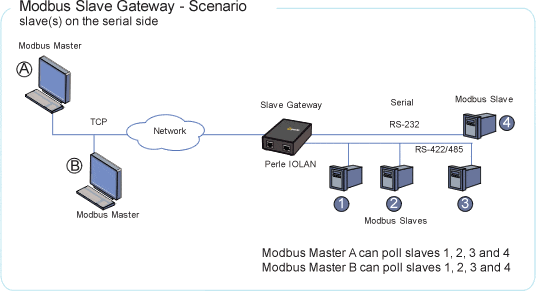 All IOLAN Secure Device Servers can operate as a Modbus Gateway