Perle wins two Govies Government Security Awards
IOLAN SCG Secure Console Servers and the IRG7440 5G Router are recognized as outstanding government security products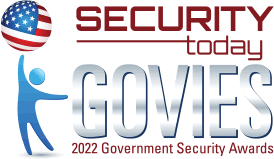 PRINCETON, N.J. (May 5, 2022): Perle Systems, a global manufacturer of secure device networking hardware, announces that Security Today magazine has named IOLAN SCG Secure Console Servers and the IRG7440 5G Router as winners in 'The Govies' Government Security Awards competition. The awards honor outstanding government security products in a variety of categories.
The pandemic has wreaked havoc worldwide, but security manufacturers continued to work hard designing new security solutions for the government sector. This is truly a testament of dedication and vision to ensure the best products are available for government use. Manufacturers should be proud of their employees for providing the best solutions in these challenging times. We appreciate the opportunity to enhance the marketplace by honoring these award winners.
A panel of independent judges from the security industry evaluated product features, innovation, user-friendliness, interoperability, quality, and design to determine the winners in the 2022 categories.
Perle was selected for the following:
Category: Intelligent Edge Devices
All Data Centers need a secure dedicated alternate access method into the IT network infrastructure to administer connected devices and assets without using the corporate LAN. This is the only way to gain access to critical equipment when the network is down, a device is turned off, in sleep mode, hibernating, or otherwise inaccessible. Console ports are the most reliable and dependable form of communication for equipment management. Whether it is a router, switch, firewall, PBX, server, security appliance, or network storage device, the serial auxiliary or USB console port is always up and running no matter what is happening with the device. It is a trusted way to find out what is going on and the quickest way to recover and minimize financial losses associated with network downtime.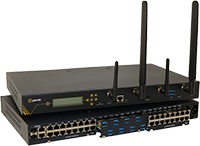 IOLAN SCG Console Servers provide the most robust OOBM solution to keep Data Centers secure with functionality that includes full routing (RIP, OSPF, and BGP) capabilities, Zero Touch Provisioning (ZTP), two-factor authentication (2FA), integrated firewall, advanced failover to multiple networks, AAA security features, RADIUS, TACACS+, & LDAP authentication, and leading data encryption tools.
The modular IOLAN SCG Console Server provides any combination of up to 50 USB and serial RJ45 console management ports for secure access to connected devices as if you are locally connected to the COM port. The integrated LTE Cellular, WiFi, or V.92 modem also provides direct Out-of-Band access into the data center or each individual rack.
Category: Network Support Solutions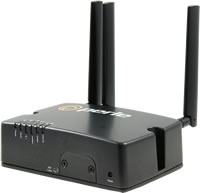 The Perle IRG7440 5G Router has the most comprehensive set of features, functionality, and performance to provide primary or back-up 5G connectivity to government infrastructure and assets. These ultra-low-power, rugged, high-performance Cellular Routers can be quickly and easily deployed using an intuitive web GUI, RESTful API, or CLI commands. This is crucial for enabling a wide range of applications while ensuring the highest degree of security to protect the integrity of critical services. Reducing the cost of downtime and service calls and bringing distributed sites online faster. With support for Data, SMS, Voice, and Video, an IRG7440 and can be integrated into any government cloud, building, industrial, or mobile location network infrastructure.
Full List of Winners can be found here: https://securitytoday.com/pages/govies.aspx
About 1105 Media's Infrastructure Solutions Group – https://1105media.com
1105 Media's Infrastructure Solutions Group includes several leading industry media brands that provide new product and technology solutions for security professionals: Security Today, securitytoday.com, GovSec, Campus Security & Life Safety, and campuslifesecurity.com. The brands' print, digital, custom media and research products integrate physical and IT security coverage and provide the smartest, most cost-effective solutions for reaching security decision makers.