Perle IRG7440 5G Router is Certified as Orange Assessed
Orange's IoT Journey Partnership Program tests devices to validate functionality and ease of connection to the Orange network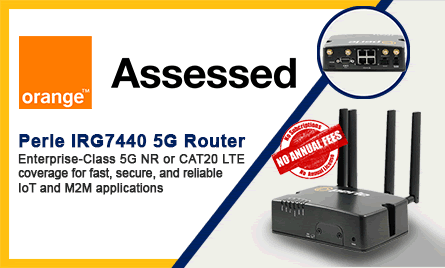 PRINCETON, N.J. (Jan. 10th, 2023) Perle Systems, a global manufacturer of secure device networking hardware, is pleased to announce the IRG7440 5G Router has been certified as Orange Assessed within the IoT Journey Partnership Program. This program is an ecosystem of partner companies with solutions and devices that are tested and certified to operate in IoT projects on Orange's global IT and telecommunication network. The Orange Assessed label allows users to easily recognize products that are compatible with an Orange SIM card and data network.
Barbara Lucesoli, Head of IoT B2B Catalogue and Digital Tools at Orange Innovation, comments, "As digital technology expands it is essential that Orange verifies the quality, proper operation, and life cycle of all connected devices. Therefore, to become Orange Assessed, a variety of end-user tests are carried out to validate device functionality and ease of connection to the Orange network."
The Perle IRG7440 5G Router is the first product in its class that does not require an annual subscription (or license fees) to access features, maintain operation, or download software updates. This router provides fast, secure, and reliable 5G NR or CAT20 LTE coverage for a wide variety of IoT and M2M applications. It will function as a 5G Router and four-port 10/100/1000 Ethernet Switch in a single-box solution with IPv4 and IPv6 supported on both the WAN and LAN sides. Ideal as a 5G failover and out-of-band management solution, the IRG7440 Router can also be deployed in 3G or 4G environments to ensure a seamless transition to 5G over time. The extensive routing protocol support (RIP, OSPF, BGP-4, VRRP, IPv4, IPv6, OpenVPN, IPSec VPN, DHCP), zone-based firewall, 2 Factor Authentication, and remote authentication (RADIUS, TACACS+, LDAP) management, ensures the IRG7440 Industrial 5G Router will integrate seamlessly with any infrastructure to control access to devices in the field and protect inside networks from unauthorized users.
Perle is committed to ensuring that all IRG Cellular Routers will operate seamlessly on 5G, 4G LTE, & 3G bands internationally. This certification gives additional peace of mind to our customers in France, as well as users in other countries that rely on Orange's telecommunication services.
The IRG7440 5G Router is now listed in Orange's IoT Journey Catalogue.
About Orange - https://www.orange.com/
Orange is one of the world's leading telecommunications operators with sales of 42.5 billion euros in 2021 and 136,500 employees worldwide at 30 September 2022, including 75,000 employees in France. The Group has a total customer base of 286 million customers worldwide at 30 September 2022, including 240 million mobile customers and 24 million fixed broadband customers. The Group is present in 26 countries. Orange is also a leading provider of global IT and telecommunication services to multinational companies under the brand Orange Business Services.