Perle Systems Wins 2023 Globee® Awards for Information Technology
IOLAN SCG Secure Console Servers receive the Gold Globee® Award for Data Center Infrastructure Management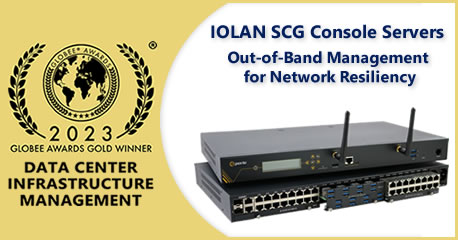 PRINCETON, N.J. (June 30, 2023): Perle Systems, a global manufacturer of secure device networking hardware, has been honored as a winner in the 18th Annual 2023 Globee® Awards for Information Technology. These esteemed global awards acknowledge vendors who demonstrate excellence through their advanced, ground-breaking products, solutions, and services in technology and cybersecurity. This recognition highlights the remarkable contributions made by IOLAN SCG Console Servers when used in Data Center Infrastructures.
The Perle IOLAN SCG Console Server provides secure out-of-band (OOB) access to data center and IT infrastructure equipment. This is the best way to gain access to critical equipment when the network is down, a device is turned off, in sleep mode, or otherwise inaccessible. By establishing secure direct access to the console management port of critical IT assets such as routers, switches, and firewalls, disruption and downtime are minimized by providing better visibility of the physical environment and the physical status of equipment.
With support for full routing (RIP, OSPF, and BGP) capabilities, Zero Touch Provisioning (ZTP), two-factor authentication (2FA), an integrated firewall, advanced failover to multiple networks, RADIUS, TACACS+, and LDAP authentication, plus leading data encryption tools, the IOLAN SCG Console Servers provide the most robust OOBM solution to keep networks and data secure. 
I am honored to congratulate the remarkable winners of the 2023 Globee® Awards for Information Technology, says San Madan, President of Globee Awards. Your dedication, innovation, and impactful contributions have set new standards of excellence in the IT industry.
The judging process for the 2023 Globee® Awards for Information Technology involved the active participation of over 600 judges from all over the world, representing a broad spectrum of industry experts. These judges contributed their expertise to evaluate and assess the submissions received. 
As data centers grow and evolve, multiple points of resiliency to deal with new points of failure or vulnerabilities are required. The IOLAN SCG Console Server was designed with remote access monitoring and provisioning at its core. When deployed top-of-rack, or at remote locations, network engineers will have secure access to all equipment, as well as automated provisioning of configuration and firmware files. We are honored that the Globee Awards have recognized our innovation and commitment to driving secure, reliable, and easy-to-set-up out-of-band management for data centers around the world.
About the Globee Awards
The term "Globee" is a combination of the words "global" and "business." The Globee Awards were formed to honor organizations of all types and sizes from around the world for their achievements in various business and technology-related categories. The awards were created to provide a platform for recognizing and promoting excellence in industries and sectors that are shaping the future of business.