August 4, 2016
Central Bank of Nigeria's CCTV Security Upgrade include Perle Industrial Switches
Finding reliable equipment to operate in temperatures exceeding 35°C, Lafia's average temperature in the shade, can be a challenge as demand for video surveillance systems grow
NASHVILLE, TN—August 4th, 2016 — As the global society demands action to reduce security threats and criminal activity, one consequential outcome is an increase in video surveillance system installations and upgrades.  These systems capture and store data for immediate or future reference by monitoring, identifying, and analyzing people and property through carefully placed cameras.  The total video surveillance market is expected to reach USD 71.28 Billion by 2022, at an estimated CAGR of 16.56% between 2016 and 2022.1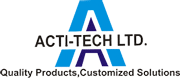 Perle Systems, a manufacturer of secure device networking solutions today announced that Perle PoE Industrial Switches were selected to be part of a new video surveillance system for the Central Bank of Nigeria (CBN). According to 6Wresearch, Nigeria is the second largest market of video surveillance systems in the Sub-Saharan region.2
Acti-Tech, a Systems Integrator in Lafia, was contracted by the CBN to specify and purchase all of the necessary IT equipment needed to improve security at the local branch with a new CCTV installation.
"Being involved in a prestigious project for the Central Bank of Nigeria, and aware of the importance of reliability and security for financial institutions, it was imperative that we source dependable hardware," explains Augustus Chalokwu, Chief Technical Officer at Acti-Tech Limited.
For the designed security infrastructure to work, Chalokwu needed a product that would do three things:
Provide Power over Ethernet (PoE) to the camera as there would not be any power outets at their locations.
Convert and transmit the Ethernet data captured by the cameras over fiber optic cabling back to the control network in the branch office.
Operate in temperatures exceeding 35°C, Lafia's average temperature in the shade.
By installing Perle PoE Industrial Switches and with Extended Temperature SFPs, Acti-Tech were able to overcome the challenges and provide a reliable security solution to the bank.  The major deciding factor came down to the fact that every component in Perle Industrial-grade switches and SFPs have been designed and tested to operate in extended temperature ranges from -40°C to 75°C.
Joe Perle, CEO at Perle Systems comments, "Most people assume that the 'Industrial' label on a product also applies to all of the components used in the design of the equipment.  It should but, with some manufacturers, it doesn't. That is what differentiates Perle from the competition. We don't use any commercial grade parts in our Industrial products.  Every component, not just the chassis, has been designed and tested to handle the stated extended operating temperatures." 
Perle Industrial Gigabit PoE Switches are installed and running smoothly at the Central Bank of Nigeria. "We are happy with it," comments Chalokwu.
The full Case Study is available to read here on the Perle Systems website.
About Acti-Tech - http://www.actitech.net/
Acti-Tech Ltd is a major ICT solutions provider in Nigeria. As a wholly indigenous and dynamic systems integrator, Acti-Tech employs over 50 people, a large number of whom are well trained and certified engineers. Every day, we help different organizations and individuals achieve their objectives in business, governance and lifestyle through the state-of-the-art solutions. We are passionate about attracting and supporting well-trained and disciplined talent, growing our business and driving operational excellence while making a positive impact on our community.
Contact
pr@perle.com
1 "Video Surveillance Market by System (Analog, IP), Component (Camera, Monitor, Server, Storage Device, Software), Service (VSaaS, Maintenance), Application (Infrastructure, Commercial, Institutional, Defense, residential), and Geography - Global Forecast to 2022". marketsandmarkets.com. March 2016. Web. 25 July 2016
2 "Nigeria Video Surveillance Market (2016-2022)". 6Wresearch. April 2016. Web. 25 July 2016