August 08, 2018
Creating High-Speed Internet Access across a Mountaintop, over 12 Inches of Radial Ice, in -20°F
Sumitomo Metal Mining use Perle Fiber Media Converters in a project to increase Internet Bandwidth for 450 people working at a remote mining camp
NASHVILLE, TN — August 8th, 2018 — You know the feeling when you find yourself in a remote area of the country and the internet access is…umm… "slow", is the nice word. You can access your email and perhaps see what is going on in the world of social media but, streaming a video, having a video conference or downloading large files is not going to reliably happen. Well, if this problem can be solved at a remote mining camp deep in the Alaska interior, it can be solved anywhere.

Pogo Mine, 38 miles northwest of Delta Junction, operates like a small town. It provides accommodation, medical care, food, and more, for 450 people living and working on-site. Between the camp and Delta Junction is "40mi mountaintop". It gets its name by being located at mile-marker 40 on the 50-mile access road that connects the mine to the town.
From 2011 thru 2016, the "morale network", which enabled everyone on site to stay in touch with loved ones by checking their email, calling home and accessing the internet consisted of a pair of 20mb Ethernet Circuits and a pair of T1's. While this was sufficient, people longed for the bandwidth that would allow them speedy access to multimedia content. However, installing a fiber line to Delta Junction would cost $6.6 million and that kind of spend was out of the question. In early 2017, Mike Spooner, Telecom and Infrastructure Technician for Sumitomo Metals Mining Pogo LLC, found a solution.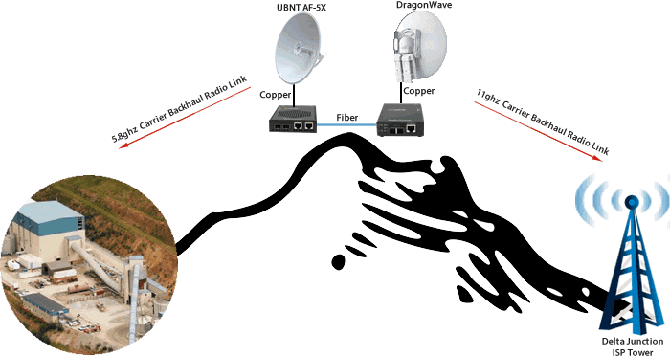 It came to my attention that a local WISP had their own telco tower in Delta Junction, with a direct fiber connection to two ISPs, explains Spooner. This was a breakthrough. After a substantial amount of research, we figured out we could install a 11ghz link from Delta Junction to 40Mi [mountaintop], and a 5.8ghz link from 40mi [mountaintop] back to the mine for less than one month's cost of our current internet bill.
Spooner continues, As the design came together, we realized that the 11ghz microwave had to be on one side of the mountain and the 5.8ghz had to be on the other side, about 100ft apart. Since it is the highest mountaintop around and trying to achieve 'ground' on solid rock is very problematic, we decided that eliminating the electrical route between the two systems was the best way to go. Perle had already proven themselves to me as being able to handle our rough environment, so they were the first place I looked when I needed Fiber to Ethernet.
Due to lightning risk, Spooner decided to heavily ground the structures, install double lightning isolation on the power leads, and run optical fiber for the four Gigabit links needed by the radio equipment. Perle SFP Media Converters were used to provide addition copper to fiber conversion ports that were not natively availble in the equipment being installed. For more details about the installation and equipment used, read the original Case Study here.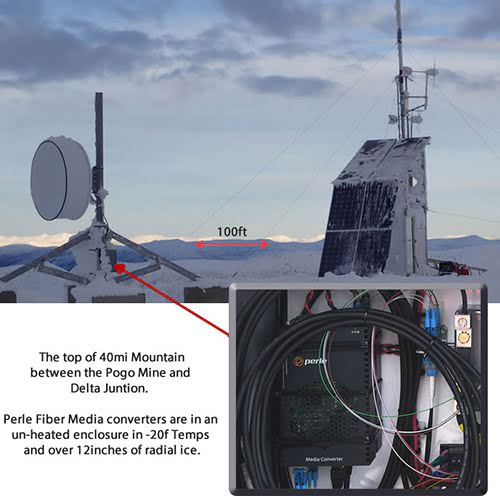 Spooner concludes, Everything seems to be working just grand, even during all the torture mother-nature throws at us. The Perle Media Converters haven't dropped a single frame or packet since they were turned on, even in -20°F temperatures and over 12 inches of radial ice!
About Sumitomo Metals Mining POGO LLC: http://pogominealaska.com
Pogo is owned and operated by Sumitomo Metal Mining Pogo LLC, a joint venture between Sumitomo Metal Mining Co., Ltd (SMM) and Sumitomo Corporation. SMM's corporate mission is to support shareholders, clients, local communities, employees and everyone else around the world in their endeavours to achieve economic and spiritual prosperity and realize their dreams through our sound business activities. SMM owns 85% of Pogo Mine while Sumitomo Corporation owns 15%.
Contact
pr@perle.com