Pogo Mine, 38 miles northwest of Delta Junction, operates like a small town. It provides accommodation, medical care, food, and more, for 450 people living and working on-site. Between the camp and Delta Junction is "40mi mountaintop". It gets its name by being located at mile-marker 40 on the 50-mile access road that connects the mine to the town.
From 2011 thru 2016, the "morale network", which enabled everyone on site to stay in touch with loved ones by checking their email, calling home and accessing the internet consisted of a pair of 20mb Ethernet Circuits and a pair of T1's. While this was sufficient, people longed for the bandwidth that would allow them speedy access to multimedia content. However, installing a fiber line to Delta Junction would cost $6.6 million and that kind of spend was out of the question. In early 2017, Mike Spooner, Telecom and Infrastructure Technician for Sumitomo Metals Mining Pogo LLC, found a solution.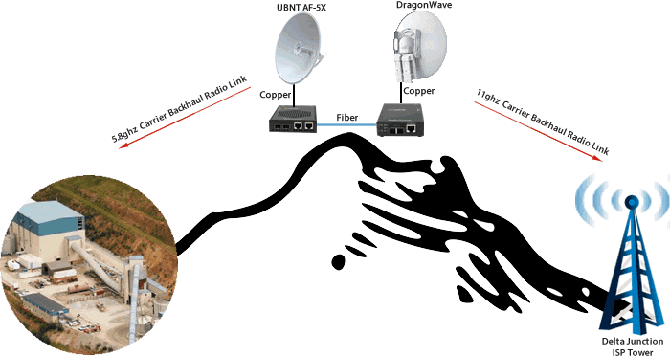 It came to my attention that a local WISP had their own telco tower in Delta Junction, with a direct fiber connection to two ISPs, explains Spooner. This was a breakthrough. After a substantial amount of research, we figured out we could install a 11ghz link from Delta Junction to 40Mi [mountaintop], and a 5.8ghz link from 40mi [mountaintop] back to the mine for less than one month's cost of our current internet bill.