Media Redundancy Protocol (MRP) IEC 62439-2 now available in Perle IDS Industrial Switches
MRP provides network recovery times of 10ms, or better
NASHVILLE, TN—February 16th, 2017 — Perle Systems, a global provider of secure device networking hardware, today announced support for Media Redundancy Protocol (MRP) IEC 62439-2 as a standard feature on all Industrial Managed Switches with the PRO feature set.
Ease of set-up, high-speed performance and redundant connections make Ring topology networks incredibly popular in factories, on plant floors and other Industrial Ethernet environments. However, if one node or port goes down, the entire network is affected. Therefore, the administrator must have a recovery plan in place. The failure of a single point can lead to an entire production facility being disabled.
Media Redundancy Protocol (MRP) is a standards-based protocol ( IEC 62439-2 ) used to avoid single points of failure by providing a recovery time of 10ms or better.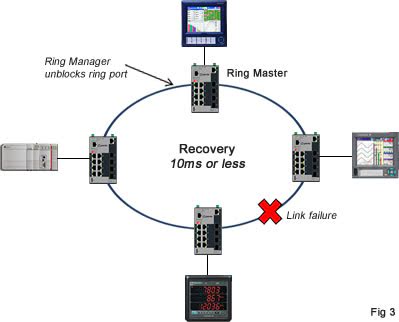 John Feeney, COO at Perle Systems comments,"MRP is the gold standard for network redundancy. Any switch installed in an Industrial Ethernet environment must have MRP. With this protocol Perle IDS switches are now interoperable with other major Ring Protocol vendors like Siemens, Cisco and Belden."
Learn more about how MRP works in this Perle Technical note.
Contact
pr@perle.com