February 25, 2016
Perle Systems reveals how Golden Gate Bridge switched from manned toll-booths to an all-electronic toll system
Fiber Media Converters were part of a $3.2 million successful installation
NASHVILLE, TN - February 25th, 2016 — There is no question that human-powered toll booth jobs are near extinction – losing out to cost-saving technology.  By switching to an all-electronic payment system, the Golden Gate Bridge Authority estimates it will save $16 million over eight years, while speeding up travel time.  Instead of manned toll-booths, the FasTrak all-electronic system bills customers by using cameras to detect licence plate numbers of 112,000 vehicles crossing the bridge daily. However, when you are given the task to save money, you sometimes have to be creative.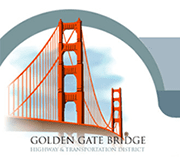 Multimode fiber cabling was already installed on The Golden Gate Bridge.  The maximum distance of gigabit over multimode fiber is 550 meters.  The Golden Gate Bridge spans 2737 meters.  The FasTrak system relies on the video feeds that are transmitted from point of collection back to the core network.  Therefore, network administrators needed find a way to increase bandwidth to transmit video feeds across the bridge, and overcome the distance limitations of multimode fiber.
The solution was to place two Perle Gigabit Fiber Media Converters, each capable of a 2km reach, back-to-back to extend the transmission distance over multimode fiber and easily cover the length of the bridge.

The FasTrak systems has been running successfully for several years now.  Dietrich Stroeh, a bridge district board member, said he has received positive feedback about the system. "It works pretty darned well," he said. "I've had a number of people say to me, 'It's the greatest thing since sliced bread.'"1
Learn more about out how Golden Gate Bridge overcame the distance limitations with Perle Gigabit Fiber Media Converters in our case study.
About Golden Gate Bridge Highways and Transportation District: http://www.goldengatebridge.org
Based in San Francisco, the Golden Gate Bridge, Highway and Transportation District operates the Golden Gate Bridge, and two public transit systems: Golden Gate Transit buses and Golden Gate Ferry. Last year, 38 million vehicles crossed the Golden Gate Bridge and over 9 million customers rode the transit systems.
Contact
pr@perle.com
1 Will Jason. "Golden Gate Bridge toll conversion deemed a success, officials cautiously eye weekend" Marin Independent Journal. Mercury News. Web. 29th March 2013. Web. 27th January 2016.