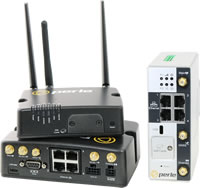 NASHVILLE, Tenn. (Jan. 9, 2020) Perle Systems, a global provider of advanced networking hardware, has released an extensive line of IRG5000 Industrial LTE Routers hat are fully approved and certified for railway rolling stock deployments. Compliant with international railway regulations, IRG5000 LTE Routers have the operating temperature, vibration, and emission certifications required for installation on trains, light rail, subways, and streetcars. They are designed for installation directly on the train, in the dusty and humid environments of subway tunnels or, the enclosures found alongside rail tracks.
When located onboard a train, the IRG5000 Railway Router, with integrated Wi-Fi access point, enables travellers to access services and applications, such as music, games, movies, books, and Internet connectivity for email and other personal applications. Connecting security cameras, informational displays, and other equipment allows for a wide variety of operational tasks to be undertaken by control staff. And, with the ability to establish and maintain cellular tower connectivity at up to 100 meters per second (360km/224mi per hour), the IRG5000 provides reliable LTE access for any rolling stock application.
When used in tunnels or track side, central administration centers can monitor rail traffic, switching status, track conditions, weather conditions, and security data gathered by the sensors and other equipment located in wayside monitoring stations.