Dulce Carillo, Telemetry Business Unit Manager at Cosmobit explains, "IBEROSTAR wanted to install a state of the art CCTV system. The entire hotel complex, perimeters, lobbies, spa facilities, pool landscapes, restaurants and beachside needed to be fitted with cameras and the corresponding network infrastructure."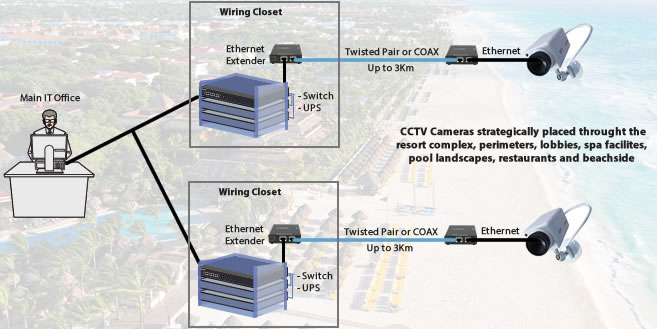 CCTV cameras were strategically placed throughout the resort and connected over Ethernet to the nearest networking closet. However, in many instances, the distance between the camera and the network closet exceeded the maximum Ethernet data transmission distance of 100m. Perle Ethernet Extenders were used to extend these distances up to 3km and facilitate reliable, real-time CCTV transmission across the resort.
The full IBEROSTAR Case Study is available to read on the Perle Systems website.
About Cosmobit : http://www.cosmobit.com.mx/
Cosmobit offer infrastructure, connectivity and security solutions to increase the productivity and effectiveness of the information technology of our clients. Providing solutions in the fields of infrastructure, connectivity & networks, security and managed services.
Contact
pr@perle.com