June 14, 2018
SmartSky Networks manage Air-to-Ground (ATG) 4G In-Flight Broadband Network with Perle Console Servers
Cisco recommended IOLAN SCS Console Servers to remotely monitor, access and manage Cisco equipment
NASHVILLE, TN—June 14th, 2018 — Today's travellers expect roaming broadband connections wherever they go. However, while on-board an airplane, passengers and crew find that existing broadband services are expensive, slow or non-existent.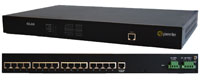 SmartSky Networks is tackling the challenge to give full in-flight access to email, SMS, social media and online video streaming services via smartphones, tablets and laptops.
A new Air-to-Ground (ATG) network based on 4G LTE technology has been implemented by SmartSky Networks. Over 250 ground-based cell towers send signals up to an aircraft's antennas. As a plane travels into different sections of airspace it transparently connects to the signal from the nearest cell tower, just as a mobile phone does on the ground. This allows SmartSky to offer uninterrupted high-bandwidth in-flight connectivity to passengers and crew. Video calls can be conducted and movies can be streamed, with no buffering. This real-time, low latency, bidirectional link will usher in the digitization of the aviation industry.
Frank Wang, Principle Network Architect at SmartSky Networks, explains, "At each ground-station we install an electronics cabinet that contains Cisco routers, antennas, and other specialist equipment critical for the ATG network. We needed a way to access the serial console port of all the equipment to manage and monitor it remotely. Cisco recommended Perle Console Servers."
Perle Console Servers are used to remotely monitor, access and manage all equipment in the ground-stations via their console ports. As the ground-stations are spread throughout the USA, some in extremely remote sites, it was important for all equipment to be reliable, temperature hardened and Telco certified.
Wang comments "The Perle Console Servers have a very good interface which we have found easy to install and use. We need to be sure that all the equipment we use is reliable. And it is."
Find out more by reading the whole Case Study on the Perle Website.
About SmartSky Networks: www.smartskynetworks.com
Headquartered in Charlotte, North Carolina, SmartSky Networks was formed in 2011 by senior aviation and telecommunications executives seeking to transform aviation using disruptive communications technologies. Working with leading aerospace and technology partners, SmartSky has begun the rollout of its innovative, air-to-ground network, SmartSky 4G LTE.
Contact
pr@perle.com