March 19, 2019
Managing a VoIP System in a Rural Network with Limited Bandwidth
Perle long-range Ethernet Extenders route VoIP calls over disused copper cables

VoIP phone systems are great. They convert voice, video and data into digital packets that can easily travel across fiber, cellular networks or Wi-Fi. Combining voice and data on one secure network saves time, money and is easily scalable.
However, VoIP has a few downsides that need to be planned for. First, VoIP will not function if there are internet or service outages. Choosing a system with built-in redundancy and call continuity, or having a back-up ISP or other connection is important. In addition, back-up power supplies should be on hand to deal with power outages.
But, what if you are in a rural area using a network that has limited bandwidth? Here packets can go missing causing breaks in conversation. This can be a huge problem if you are trying to communicate with customers, other businesses, or work colleagues.
The Ravenglass & Eskdale Steam Railway recently had to solve this problem. Ravenglass is a small costal village in Cumbria England. It is the only coastal town in the Lake District National Park and is located at the estuary of three rivers. As a remote and rural national park, the internet infrastructure is extremely limited.
When tourists visit the Lake District National Park, a "must-do" activity is to take a ride aboard the heritage miniature steam trains operated by the Ravenglass & Eskdale Steam Railway. It runs from Ravenglass, through 7-miles (40 minutes) of spectacular scenery, to Dalegarth for Boot at the foot of England's highest mountains.
A third-party telco provider had set up a VoIP PBX system at both Ravenglass and Dalegarth for Boot so that internal calls, and calls from engineers at lineside locations along the railway, could be made over the internet between the two locations. However, as Stuart Marsh, a volunteer at the railway responsible for signalling, describes, "Sound quality on the phones was appalling. There was the most incredible echo on the line and it was as if the other person was talking in hushed whispers… Something had to change."
Stuart recalled learning about Perle long-range Ethernet Extenders that can be used to transmit data up to 20km across any existing copper wiring and thought, "…this may just work."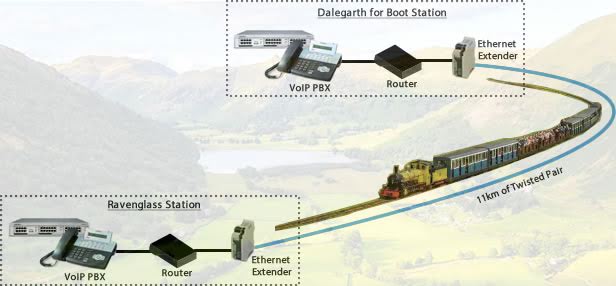 There is 10-pair cable running along the entire 7-mile route of the railway. Some pairs are used for lineside telephony, but others are unused spares. The idea was to route the voice data over a spare pair to ensure that communication would reach its destination with the crystal-clear sound quality that all telephone users expect in today's world.
Stuart comments, "We bought the Extenders, installed them and they work. We use both channels available in the Perle units to increase our bandwidth, so we can make several calls at once. And they have been the answer to the problem. An absolute dream."
The world is full of unused copper wiring previously used in alarm circuits, E1/T1 circuits, RS-232, RS-422, RS-485, CCTV and CATV applications. Now this wiring sits abandoned as systems where upgraded over the years. So, if you find yourself managing a VoIP system in a network with limited bandwidth, perhaps tapping into that wiring with an Ethernet Extender could be the solution. Read the full Case Study here.
About Ravenglass & Eskdale Railway:
The Ravenglass & Eskdale Railway is a combined family-owned business and voluntary organisation operating a heritage, narrow gauge steam railway on the Western Coast of the Lake District. The railway is surrounded by stunning views and walks and is based in Ravenglass, the only coastal village in the Lake District National Park. The business's awards include a Silver Green Tourism award, Coach Tourism's 2015 Heritage Railway award, Cumbria Tourism's 2015 Large Visitor Attraction of the Year award among many others.
Contact
pr@perle.com