March 21, 2017
Boy Scouts use Perle Ethernet Extenders to comply with Maryland Pool Regulations
VoIP phone communication at remote poolside locations made possible with Ethernet Extenders
NASHVILLE, March 21st, 2017 — Perle Systems, a global provider of secure device networking hardware, reveals how the Boy Scouts use Ethernet Extenders to enable telephone communications at remote poolside locations.

The state of Maryland recently passed a regulation that stipulates, in case of an emergency, a telephone is available within swimming pool enclosures. With the annual summer opening of the Broad Creek Memorial Boy Scout Reservation under threat, unless new pool regulations could be met, Synergistic Systems was asked to design a system where Power over Ethernet (PoE) VoIP telephones could be installed.
Synergistic faced two main challenges. First, extend Ethernet communications from the main office to numerous remote woodland locations up to 7000 ft away. Second, provide power to the VoIP phones. The solution was Perle PoE Copper Extenders.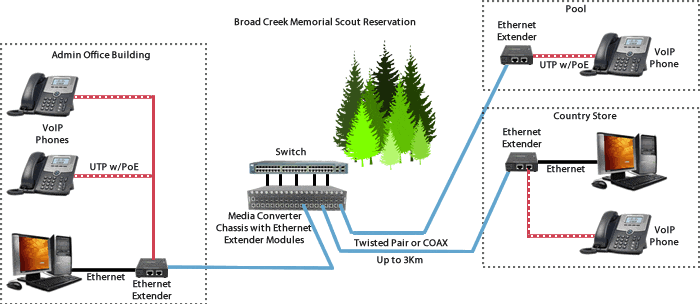 Brandt Eppler, CEO at Synergistic Systems, comments, "I really liked the Chassis set up. I could immediately see how this would be a tidy system that could be installed, labelled and forgotten at the main building. The Ethernet Extenders fulfilled the distance requirements and we were able to power the VoIP phones at the other end."
The final solution enable communication at two swimming pools, one medical facility, one country store, the guidance councillor office, the cafeteria and some other lodges.
Read the whole Boy Scouts Case Study here.
Contact
pr@perle.com