Perle Systems Case Study
Boy Scouts install Perle Ethernet Extenders to comply with Maryland Pool Regulations
Ethernet Extenders enable PoE VoIP phone communication at remote poolside locations

Every summer, thousands of Maryland Boy Scouts flock to their Campground to spend a few weeks exploring, camping, swimming, cooking and making memories that will stick with them for a lifetime. The Broad Creek Memorial Scout Reservation is a massive remote site, nestled within hundreds of acres of woodland. The campground itself consists of numerous buildings including a medical facility, two swimming pools, a country store, cafeterias, and other lodges. The pools, as well as other buildings, are located as far as 7000ft. from the main administration building.
The state had recently passed a regulation that stipulates, in case of an emergency, a telephone is available within swimming pool enclosures. This new regulation posed a threat to opening the campground for the summer season which would disappoint thousands of Boys Scouts and their families.
Brandt Eppler, CEO at Synergistic Systems Inc. was asked to design a system where Power over Ethernet (PoE) VoIP telephones could be installed at the remote buildings to enable telephone communication fulfilling Maryland pool regulations.
Eppler comments, "I knew that some years ago, around 50 pairs of CAT3 cabling had been laid underground around the whole Boy Scouts facility but, had never been used for anything. This was my starting point. Realizing that I needed to get Ethernet from the main administration building to the remote woodland locations, which were around 7000 ft. away, was the first step. Additionally, I would need to provide power over Ethernet to the VoIP phones."
With the scheduled opening of the campground looming, there was significant time pressure to get the system installed and operational.
Research lead Brandt to Perle PoE Copper Extenders. "I really liked the Chassis set up. I could immediately see how this would be a tidy system that could be installed, labelled and forgotten at the main building. The Ethernet Extenders fulfilled the distance requirements and we were able to power the VoIP phones at the other end."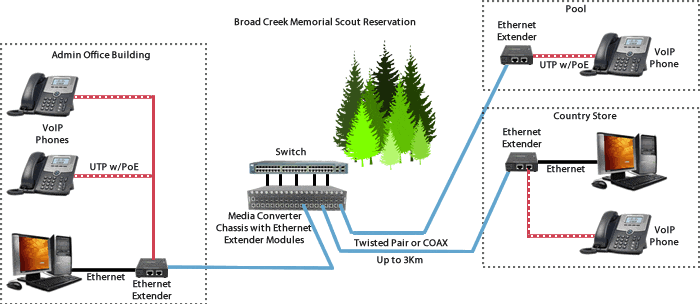 Synergistic Systems installed one MCR1900 Media Converter Chassis loaded with ten eX-C1110 Gigabit Ethernet Extender Modules in the main administration building. Ten eXP-S1110PE PoE+ Gigabit Ethernet Extenders were connected via the CAT3 at the two swimming pools, one medical facility, one country store, the guidance councillor office, the cafeteria and some other lodges.
Eppler recalls, "The phone quality on the VoIP phones was fantastic and, as a matter of fact, we had at several of the locations multiple phones and a computer all connected to the Extenders on the Cat3 line and it all worked fine"
About Synergistic Systems:
Established in 1990 in Lutherville, Maryland, Synergistic Systems relies on nearly 30 years of technical expertise to provide scalable and adaptable connectivity solutions for a diverse range of environments and applications.