Perle Launches Power over Ethernet Industrial Managed Switches
84 PoE Industrial Switches complete phase three of an industrial portfolio launch
NASHVILLE, TN - May 16th, 2017 — Perle Systems, a global manufacturer of secure device networking hardware, today announced the launch of fully compliant IEEE802.3 af/at Power over Ethernet (PoE) Industrial Managed Switches. This third phase of an Industrial Managed Switch portfolio launch includes 84 models of the IDS-500 PoE Switches with variable 10/100/1000Base-T, SFP, Fiber and combo ports
"More and more companies are using PoE technology to increase installation flexibility, lower costs and make their networks efficient," comments John Feeney, Chief Operating Officer at Perle Systems. "Adding PoE technology to Managed Ethernet Switches to meet the unique needs of Industrial-grade environments just makes sense."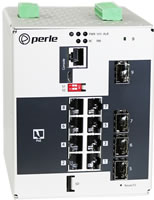 Industrial-grade Managed Ethernet Switches with PoE are designed to withstand extreme temperatures, surges, vibrations, and shocks found in industrial automation, government, military, oil, gas, mining and outdoor applications. Classified as Power Sourcing Equipment (PSE), they use standard UTP cables that carry Ethernet data to also provide up to 30 watts of power to Powered Devices (PDs) such as wireless access points, Voice over IP phones and IP cameras.
Perle IDS-500 PoE Industrial Managed Switches come with a PRO Feature Set to meet the needs enterprise-grade level environments where additional security and network integration functionality is required:
These rugged fanless switches feature a corrosion resistant IP20 aluminum case, a voltage range of 44 to 57 volts DC and operate in temperatures from -40 to 75°C.  In addition, Perle DIN Rail Switches will have numerous certifications for harsh environments including UL 61010-1, ANSI Class1/Div2 and ATEX Class1/Zone2. With this product launch, Perle now offers over 720 Industrial Managed Ethernet Switches.
Since entering the Industrial Switch Market, Perle has sold to numerous high profile customers such as the FAA, NBCUniveral, SolarCity, Dupont, Rolls Royce and Siemens.