The challenge is that most gaming floors still use serial wiring which, although reliable, operates at a fraction of the speed of Ethernet. When casinos seek an upgrade, they are hindered by high implementation costs and operational downtime. These are huge barriers to overcome.
Bally Systems' Super Slotline™ has stepped up with an innovative solution. Using existing cabling, Super Slotline™ converts traditional serial floors to high-speed floors that emulate the speed and compatibility of Ethernet. With a low implementation cost, 80MB per second Ethernet capable connection speeds, no remodelling and zero disruptions to casino operations, Super Slotline addresses all concerns of the IT Administrator.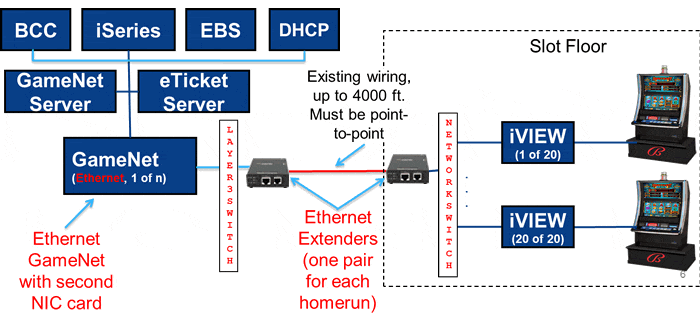 A critical component of this system is the implementation of Perle Ethernet Extenders that transparently extend 10/100/1000 Ethernet connections across the existing serial cables.
Bally Systems Engineers are always pioneering creative solutions that enable casinos to continually improve upon the experiences offered in their premises, comments John Feeney, COO at Perle Systems. Perle and Bally have worked on many projects together and we are thrilled to be a part of their latest innovation.
Find out more by reading the Super Slotline Case Study.
About Scientific Games : www.sggaming.com
Scientific Games Corporation (NASDAQ: SGMS) is a leading developer of technology-based products and services and associated content for worldwide gaming, lottery and interactive markets. The Company's portfolio includes gaming machines, game content and systems; table games products and shufflers; instant and draw-based lottery games; server-based lottery and gaming systems; sports betting technology; loyalty and rewards programs; and interactive content and services.
Contact
pr@perle.com
1 "Global Casino Gaming Market Report 2017-2021" Research and Markets. December 2016. Web. 19 July 2017