September 17th, 2015
Perle responds to Increasing Demand for Doubled Fiber Capacity
Single Strand (WDM) Fiber Media Converters support a bi-directional signal on a single fiber strand.
NASHVILLE, TN - September 17th, 2015 — Perle Systems, a global manufacturer of advanced Ethernet over Fiber and secure device networking solutions, adds 46 models of WDM Single Strand Fiber Media Converters to its product portfolio.
WDM Media Converters, also referred to as Bi-Directional (BiDi) or Simplex, enable customers to extend copper RJ45 Ethernet connections across a single strand fiber link. Wavelength-Division Multiplexing (WDM) technology is used where there are limits on available fiber, or to reduce costs. By enabling a bi-directional signal on a single fiber strand, capacity is instantly doubled without deploying more cable; labor costs associated with maintenance and installation are reduced and; reliability improves as the number of end point connections decrease.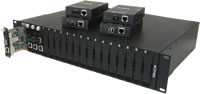 Bandwidth is increased because each wavelength carries data independently from others allowing network designers to mix and match speeds and protocols over the same fiber link.
John Feeney, Chief Operating Officer at Perle Systems comments, "Plug and Play WDM Media Converters are perfect for extending Ethernet LAN's. They allow network administrators to take advantage of the benefits associated with Single Strand Fiber and tap into additional savings."
Perle offers over 876 separate models of Managed and Unmanaged Media Converters, 216 of which are WDM Media Converters, to transmit 10BaseT, Fast Ethernet, Gigabit and 10 Gigabit Ethernet over fiber. All Perle Media Converters come with a Lifetime Warranty, use high-end components and have an on-board high-reliability microcontroller to deal with link error detection and recovery.
About Perle Systems www.perle.com
Perle Systems is a leading developer, manufacturer and vendor of high-reliability and richly featured connectivity and device networking products. These products are used to connect remote users reliably and securely to central servers for a wide variety of business applications. Product lines include Console Servers, Terminal Servers, Device Servers, Media Converters, Ethernet Copper Extenders, Industrial Ethernet Switches, Ethernet I/O, Serial Cards, Parallel Cardsand Remote Power Switches . Since 1976, Perle has distinguished itself through extensive networking technology, depth of experience in major real-world network environments and long-term distribution and VAR channel relationships in major world markets. Perle has offices in 9 countries in North America, Europe and Asia and sells its products through distribution and OEM/ODE channels worldwide.
Contact
pr@perle.com