September 22, 2015
Perle PCI Cards awarded Windows 10 certification 7 days after release
Digitally signed 32-bit and 64-bit drivers are now available for Perle PCI Serial Cards and Parallel Cards
NASHVILLE, TN - September 22nd, 2015 — Perle Systems, global developer and manufacturer of device connectivity solutions announces Windows 10 certification for PCI Serial Cards and Parallel Cards. The digitally signed Microsoft drivers ensure a seamless migration for customers who are upgrading to the latest version of Windows®.
"Even before the official release of Windows 10 we were working hard to ensure we met the stringent new requirements," comments John Feeney, Chief Operating Officer at Perle Systems. "Using digitally signed drivers ensures ease of installation without error messages and is the only way to safeguard against malware."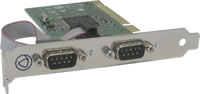 Perle Serial Cards enable you to easily add RS232, RS422, RS485 serial ports to your PC or server PCI, PCI-X or PCI Express bus slots.
Perle SPEED LE PCI Parallel Cards enable users to add IEEE 1284 parallel ports to PCs or servers.
Drivers can be downloaded from the Perle website.
About Perle Systems www.perle.com
Perle Systems is a leading developer, manufacturer and vendor of high-reliability and richly featured connectivity and device networking products. These products are used to connect remote users reliably and securely to central servers for a wide variety of business applications. Product lines include Console Servers, Terminal Servers, Device Servers, Media Converters, Ethernet Copper Extenders, Industrial Ethernet Switches, Ethernet I/O, Serial Cards, Parallel Cards, Remote Power Switches and Multimodem Cards. Since 1976, Perle has distinguished itself through extensive networking technology, depth of experience in major real-world network environments and long-term distribution and VAR channel relationships in major world markets. Perle has offices in 9 countries in North America, Europe and Asia and sells its products through distribution and OEM/ODE channels worldwide.
Contact
pr@perle.com