August 4, 2011
Perle Extends PoE Media Converter Line to 10/100 Fast Ethernet with 30 new models
New PoE Media Converters extend the distance of a 10/100 Ethernet network with fiber cabling and function as PoE injectors to power IEEE 802.3 devices.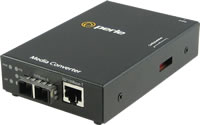 NASHVILLE, TN - August 4, 2011— Perle Systems, a global provider of advanced fiber to Ethernet and secure device networking solutions, today expanded its line of PoE Media Converters with the release of 30 PoE Fast Ethernet Media Converters for 10/100 Ethernet networks. PoE Media Converters transparently connect copper to fiber while providing Power over Ethernet ( PoE ) to standards-based PoE and PoE+ compliant Powered Devices (PDs) such as IP cameras, VoIP phones and wireless access points.
"Installing CCTV in ceilings, retail kiosks on shop floors, or traffic cameras in places where there is no AC or DC power is a challenge our customers face all the time", said Al Davies, Director of Product Management at Perle Systems. "Perle PoE Media Converters enable you to reach these devices, that can be up to 160km away, and power them over copper cabling."
"The requirement for PoE infrastructure installations are expanding globally at an unprecedented rate", continues Davies. "By expanding our line of PoE Media Converters we showcase our commitment to ensuring that our full-featured Media Converter line meets any and all fiber to Ethernet needs of our large customer base around the world."
Perle 10/100 Fast Ethernet PoE Ethernet to Fiber Converters provide an economical path to extend the distance of an existing network with fiber cabling. At the same time they function as PoE injectors to power devices like IP phones, video conferencing equipment, IP cameras and Wi-Fi devices over copper UTP cabling.
Perle PoE Media Converters include advanced features such as the ability to remotely reset attached PD's,  Auto-MDIX, Link Pass-Through, Fiber Fault Alert, and Loopback to allow Network Administrators to "see-everything" for more efficient troubleshooting and less on-site maintenance.
Perle's extensive Media Converter line includes a choice of full-featured solutions to connect 10BaseT, Fast Ethernet and Gigabit Ethernet to fiber. All Perle Media Converters have an on-board microcontroller which deals with error detection and recovery. And, Perle Media Converters only use high-end components to ensure product reliability. Perle backs this up with a Lifetime Warranty to guarantee user satisfaction.
Learn more about Perle's PoE Fast Ethernet Media Converters .
About Perle Systems www.perle.com
Perle Systems is a leading developer, manufacturer and vendor of high-reliability and richly featured connectivity and device networking products. These products are used to connect remote users reliably and securely to central servers for a wide variety of business applications. Product lines include Console Servers for Data Center Management, Terminal Servers, Device Servers, Remote Power Switches, Media Converters, Ethernet I/O, Serial Cards, Parallel Cards and Multimodem Cards. Perle distinguishes itself through extensive networking technology, depth of experience in major real-world network environments and long-term distribution and VAR channel relationships in major world markets. Perle has offices in 9 countries in North America, Europe and Asia and sells its products through distribution and OEM/ODE channels worldwide.
Contact
pr@perle.com