February 17, 2011
Perle Systems Launches More Rugged IOLAN Device Servers
IOLAN Device Servers with Terminal Block connectors provide optimum reliability and security in harsh environments.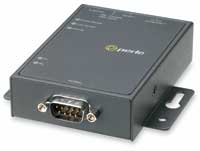 NASHVILLE, TN - February 17th, 2011— Perle Systems, a global provider of advanced serial to Ethernet and secure device networking solutions, today announced the IOLAN DS1T TB and IOLAN SDS3M TB Rugged Device Servers. Device Servers are used to quickly and easily web or network enable equipment with RS232, RS422 or RS485 serial interfaces.
"Perle has over 120 different Device Servers to meet the serial to Ethernet connectivity needs of customers with commercial and industrial applications," says Al Davies, Director of Product Marketing at Perle Systems.  "We have an extensive list of features, including full IPv6 support, and a commitment to always make our product solve the problem of any user, even in the most unique scenarios."
The IOLAN DS1T Device Servers address the need for connecting remote serial devices that operate in extreme temperatures of
-40F to +165F (-40C to +74C) to an enterprise IP network. Serial based equipment found with traffic management, oil and gas pipelines, weather tracking and other remote applications must function in temperatures that cannot be supported by commercial based serial device servers. The IOLAN DS1T TB Device Server features one software selectable RS232/RS422/RS485 serial port, one 10/100 Ethernet port, a rugged steel casing and a Terminal Block for power input.  It is specifically designed to give administrators access remote serial console ports on equipment subjected to harsh environments and severe temperatures such as security cameras, alarms, traffic controllers, sensors and tracking devices.
The Perle IOLAN SDS3M Device Servers are designed for applications that require remote console management, data capture or monitoring of equipment over an IP network or dial-up modem connection.  The IOLAN SDS3M TB features three software selectable RS232/RS422/RS485 serial ports, one 10/100 Ethernet port, one integrated V.92 modem with RJ11 jack, a rugged steel casing and a Terminal Block for power input.  It is ideal for remote serial device communication to control, monitor, diagnose and troubleshoot equipment over a network, the Internet or dial-up modem.
Learn more about Perle Device Servers.
About Perle Systems www.perle.com
Perle Systems is a leading developer, manufacturer and vendor of high-reliability and richly featured connectivity and device networking products. These products are used to connect remote users reliably and securely to central servers for a wide variety of business applications. Product lines include Console Servers for Data Center Management, Terminal Servers, Device Servers, Remote Power Switches, Media Converters, Ethernet I/O, Serial Cards, Parallel Cards and Multimodem Cards. Perle distinguishes itself through extensive networking technology, depth of experience in major real-world network environments and long-term distribution and VAR channel relationships in major world markets. Perle has offices in 9 countries in North America, Europe and Asia and sells its products through distribution and OEM/ODE channels worldwide.
Contact
pr@perle.com