February 27, 2013
Perle expands line of Industrial Temperature Media Converters
Perle warns against choosing Industrial Temperature Media Converters that are not fully qualified to operate in the extreme temperatures found in traffic management, oil and gas pipelines, weather tracking, and other outdoor copper to fiber conversion applications.
NASHVILLE, TN - February 27th, 2013 — Perle Systems, a global provider of advanced fiber to Ethernet and secure device networking solutions, today extended its range of Industrial Temperature Media Converters to meet growing customer demand to connect copper to fiber in locations exposed to harsh temperatures from -40F to +175F (-40C to +75C).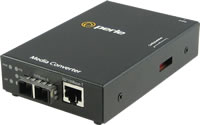 Over the years, while providing solutions to the industrial market place, Perle has learned that the number one customer problem is finding out too late that chosen products are not fully designed to operate in extreme temperatures.  There are a lot of products on the market claiming to operate at -40F to +175F but, they use "commercial-grade" parts that have not been qualified by the manufacturer (OEM) to operate at the claimed temperature ranges. When "commercial-grade" parts are exposed to extremely high or low temperatures, product failures are inevitable. For example, integrated circuits on the PCB overheat causing premature failure of the product.  Under-rated connectors do not allow for proper contact between the device and the cables. These failures eventually stop all data communications in these high and low temperature environments.
"Perle understands the critical nature of the harsh environments where customers are deploying this technology," comments John Feeney, Chief Operating Offer at Perle Systems. "Often, they are in remote or difficult to access locations. Unreliable products made with standard components simply won't work. This is why all Perle Industrial Temperature Media Converters only use components that are fully qualified and rated to operate in -40F to +175F."
Media Converters address the need to transparently connect copper Ethernet equipment to fiber optic cable. Copper-based Ethernet connections are limited to a data transmission distance of only 100 meters when using unshielded twisted pair ( UTP ) cable. By using a Media Converter, fiber optic cabling can be used to extend this link up to 160km – something very desirable in remote and difficult to access locations.
The extended temperature feature, along with a rugged steel casing, make Perle Industrial Media Converters ideal for extending the distance between industrial devices such as security cameras, wireless access points, alarms, traffic controllers, sensors and tracking devices.
Perle has over 770 Media Converters to transmit 10BaseT, Fast Ethernet, Gigabit and 10G over fiber. All Perle Media Converters have an on-board microcontroller to deal with error detection and recovery. And, Perle Media Converters only use high-end components to ensure product reliability. To deliver worry free operation and eliminate the cost associated with out of warranty repairs, Perle supplies a Lifetime Warranty as a standard feature across all major product lines.
Learn more about Perle Industrial Temperature Media Converters.
About Perle Systems www.perle.com
Perle Systems is a leading developer, manufacturer and vendor of high-reliability and richly featured connectivity and device networking products. These products are used to connect remote users reliably and securely to central servers for a wide variety of business applications. Product lines include Console Servers, Terminal Servers, Device Servers, Media Converters, Ethernet Copper Extenders, Ethernet I/O, Serial Cards, Parallel Cards, Remote Power Switches and Multimodem Cards. Since 1976, Perle has distinguished itself through extensive networking technology, depth of experience in major real-world network environments and long-term distribution and VAR channel relationships in major world markets. Perle has offices in 9 countries in North America, Europe and Asia and sells its products through distribution and OEM/ODE channels worldwide.