January 22, 2013
Windows 8 and Windows Server 2012 certification awarded to Perle Systems Parallel and Serial Cards
Perle is the first to deliver digitally signed 32-bit and 64-bit drivers for Parallel and Serial Cards in Windows 8 and Windows Server 2012 environments.
NASHVILLE, TN - January 22th, 2013 — Perle Systems, the global developer and manufacturer of serial connectivity solutions announces Windows 8 and Windows Server 2012 certification of their full range of SPEED and UltraPort Serial Cards and SPEED Parallel cards. Perle is the first serial connectivity company to have a digitally signed Microsoft driver for both 32-bit and 64-bit versions of Windows 8 and Windows Server 2012.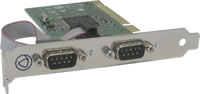 "Perle Systems continues to lead the industry when it comes to support for the widest range of operating systems." comments Julie McDaniel, Vice President Marketing, Perle Systems. "Our users can be confident that our full line of serial and parallel cards will continue to operate on Microsoft's latest operating systems. This certification and early adoption to a new standard demonstrates Perle's commitment to customers for long term investment protection and support."
Microsoft's Windows 8 and Windows Server 2012 Certification of products is granted after passing a series of rigorous testing. Once a product is certified the company earns the right to use the highly respected Windows 8 Compatible logo and Certified for Windows Server 2012 logo. The authorized use of this logo is proof that a product or solution has met the stringent criteria set out by Microsoft indicating reliability and technical excellence.


Perle's Serial and Parallel Card lines enable you to easily add RS232, RS422, RS485 serial or parallel ports to your PC or server. Compatible with PCI, PCI-X or PCI Express bus slots, Perle cards are the only products that support all major operating systems including Windows, Vista, Linux, Solaris, SPARC as well as SCO.
Learn more about Perle Systems' Serial Cards.
Learn about Perle Systems' Parallel Cards.
Download Perle Drivers.
About Perle Systems www.perle.com
Perle Systems is a leading developer, manufacturer and vendor of high-reliability and richly featured connectivity and device networking products. These products are used to connect remote users reliably and securely to central servers for a wide variety of business applications. Product lines include Console Servers, Terminal Servers, Device Servers, Media Converters, Ethernet Copper Extenders, Ethernet I/O, Serial Cards, Parallel Cards, Remote Power Switches and Multimodem Cards. Since 1976, Perle has distinguished itself through extensive networking technology, depth of experience in major real-world network environments and long-term distribution and VAR channel relationships in major world markets. Perle has offices in 9 countries in North America, Europe and Asia and sells its products through distribution and OEM/ODE channels worldwide.