June 06, 2012
Perle launches Industrial Temperature Media Converters
Industrial Temperature Media Converters transparently connect copper to fiber in locations that are exposed to harsh extended temperatures -40F to +175F (-40C to +75C).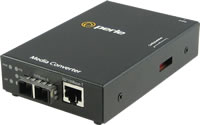 NASHVILLE, TN - June 06th, 2012 — Perle Systems, a global provider of advanced fiber to Ethernet and secure device networking solutions, today launched a full range of Industrial Temperature Media Converters used to transparently connect copper to fiber in locations that are exposed to harsh extended temperatures.
"Equipment found in traffic management, oil and gas pipelines, weather tracking, industrial and outdoor applications must function in temperatures that cannot be supported by a commercial based media converter," says Al Davies, Director of Product Management at Perle Systems. "Our new rugged Media Converters operate in temperatures from -40F to +175F (-40C to +75C)."
This extended temperature feature, along with a rugged steel casing, make Perle Industrial Media Converters ideal for extending the distance between industrial devices such as security cameras, wireless access points, alarms, traffic controllers, sensors and tracking devices.
In addition to the standard Industrial Media Converters, there are variants in the line that will also provide Power over Ethernet ( PoE or PoE+ ) to compliant Powered Devices (PDs) such as IP cameras, VoIP phones and wireless access points. Furthermore, models exist that support industry standard MSA compliant SFPs.
Perle's Media Converter line includes over 700 models to transmit 10BaseT, Fast Ethernet and Gigabit Ethernet over fiber. All Perle Media Converters have an on-board microcontroller which deals with error detection and recovery. And, Perle Media Converters only use high-end components to ensure product reliability. Perle backs this up with a Lifetime Warranty to guarantee user satisfaction.
Learn more about Perle Industrial Temperature Media Converters.
About Perle Systems www.perle.com
Perle Systems is a leading developer, manufacturer and vendor of high-reliability and richly featured connectivity and device networking products. These products are used to connect remote users reliably and securely to central servers for a wide variety of business applications. Product lines include Console Servers for Data Center Management, Terminal Servers, Device Servers, Remote Power Switches, Media Converters, Ethernet I/O, Serial Cards, Parallel Cards and Multimodem Cards. Perle distinguishes itself through extensive networking technology, depth of experience in major real-world network environments and long-term distribution and VAR channel relationships in major world markets. Perle has offices in 9 countries in North America, Europe and Asia and sells its products through distribution and OEM/ODE channels worldwide.
Contact
pr@perle.com