June 14, 2011
Perle Systems Releases over 96 PoE Media Converters
PoE Media Converters extend the distance of a network with fiber cabling and function as PoE injectors to power devices such as IP phones, video conferencing equipment, IP cameras and Wi-Fi devices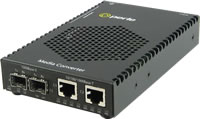 NASHVILLE, TN - June 14, 2011— Perle Systems, a global provider of advanced Ethernet over fiber and secure device networking solutions, today announces 96 PoE Media Converters.  PoE Media Converters transparently connect copper to fiber while providing Power over Ethernet ( PoE ) to standards-based PoE and PoE+ compliant Powered Devices (PDs) such as IP cameras, VoIP phones and wireless access points.
Perle PoE Media Converters are classified as Power Sourcing Equipment (PSE). While using standard UTP/STP cables that carry Ethernet data, Perle PoE Media Converters can also provide power to one or two Powered Devices (PDs). Perle has PoE Media Converter models that support the IEEE 802.3af PoE standard (15.4W of power) or the IEEE 802.3at PoE+ standard (30W of power).
"There are a lot of scenarios where there is no AC or DC power available, such as in ceilings, kiosks, light posts and pipelines", said Al Davies, Director of Product Management at Perle Systems. "Perle PoE Media Converters enable you to not only to reach these devices, that can be up to 160km away, but also to power them over copper cabling."
Security cameras are typically installed in remote locations throughout a facility. For cameras that are in the ceiling or other inaccessible areas like rooftops, light poles, along fences, pipelines and transit routes, the cost of bringing electrical power to each camera is eliminated by powering the equipment through the UTP cable using a PoE Media Converter.
When a company deploys a wireless network in their office or large warehouse, Wireless Access Points (APs) need to be set up throughout the facility to ensure complete coverage for reliability. The network manager will likely need to extend further than the 100 meters allowed by copper cable to reach many of the APs.  For APs that are in the ceiling or other inaccessible areas, PoE Media Converters can also provide standard PoE power, including pre-standard power, for those access points that were deployed prior to ratification IEEE 802.3af
And, PoE Media Converters are ideal for Fiber to the Desktop (FTTD) applications by providing power to VoIP phones and video conferencing equipment.
Perle PoE Media Converters include advanced features such as Auto-Negotiation, Auto-MDIX, Link Pass-Through, Fiber Fault Alert, and Loopback to allow Network Administrators to "see-everything" for more efficient troubleshooting and less on-site maintenance.
Perle's Media Converter line includes an extensive choice of full-featured solutions to connect 10BaseT, Fast Ethernet and Gigabit Ethernet to fiber. All Perle Media Converters have an on-board microcontroller which deals with error detection and recovery. And, Perle Media Converters only use high-end components to ensure product reliability. Perle backs this up with a Lifetime Warranty to guarantee user satisfaction.
Learn more about Gigabit Rate Converting PoE Media Converters.
About Perle Systems www.perle.com
Perle Systems is a leading developer, manufacturer and vendor of high-reliability and richly featured connectivity and device networking products. These products are used to connect remote users reliably and securely to central servers for a wide variety of business applications. Product lines include Console Servers for Data Center Management, Terminal Servers, Device Servers, Remote Power Switches, Media Converters, Ethernet I/O, Serial Cards, Parallel Cards and Multimodem Cards. Perle distinguishes itself through extensive networking technology, depth of experience in major real-world network environments and long-term distribution and VAR channel relationships in major world markets. Perle has offices in 9 countries in North America, Europe and Asia and sells its products through distribution and OEM/ODE channels worldwide.
Contact
pr@perle.com