June 19, 2013
Perle Managed Ethernet Extenders support AAA Security Services to protect your network
Securely manage long range Ethernet communication links in SNMP managed networks with AAA security and data encryption.
NASHVILLE, TN - June 19th, 2013 — Perle Systems, a global provider of advanced Ethernet over fiber and secure device networking solutions, today introduces Managed Ethernet Extenders. Perle Managed Ethernet Extenders are designed for environments where network services are needed beyond the Ethernet limit of 328 feet (100 meters) and network security is critical.
Ethernet Extenders can be found in commercial buildings, residential units, hospitality environments and remote offices where copper wiring is being used for long range Ethernet communication links. On a corporate LAN where security is crucial a managed solution is required.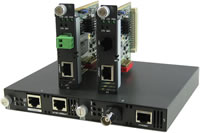 Perle's Managed Ethernet Extenders support all authentication, authorization and accounting (AAA) security services used in corporate networks, including TACACS+, RADIUS, LDAP, Kerberos, NIS and RSA. Management session data is protected through encrypted SSH and HTTPS connections to protect ID's and passwords from someone 'snooping' on the network.
"These are the security features used when managing corporate firewalls, switches and routers," says John Feeney, COO at Perle Systems. "It should be expected that this protection is also available in a Managed Ethernet Extender."
Perle offers an extensive range of Ethernet Extender to transparently extend 10/100/1000 Ethernet connections across existing copper wiring. Perle Ethernet Extenders only use high-end components to ensure product reliability. Perle backs this up with a Lifetime Warranty to guarantee user satisfaction.
Learn more about Perle Managed Ethernet Extenders.
About Perle Systems www.perle.com
Perle Systems is a leading developer, manufacturer and vendor of high-reliability and richly featured connectivity and device networking products. These products are used to connect remote users reliably and securely to central servers for a wide variety of business applications. Product lines include Console Servers, Terminal Servers, Device Servers, Media Converters, Ethernet Copper Extenders, Ethernet I/O, Serial Cards, Parallel Cards, Remote Power Switches and Multimodem Cards. Since 1976, Perle has distinguished itself through extensive networking technology, depth of experience in major real-world network environments and long-term distribution and VAR channel relationships in major world markets. Perle has offices in 9 countries in North America, Europe and Asia and sells its products through distribution and OEM/ODE channels worldwide.