June 23, 2015
The number of Healthcare customers using Perle increased by 62% last year
Perle discloses partial list of Healthcare customers
NASHVILLE, TN - June 23, 2015 — While reporting Healthcare customer acquisition is up by 62%, Perle Systems, a manufacturer of advanced device networking hardware, is also disclosing a partial list of users.
"Everyone seems to be talking about the report stating the Healthcare Internet of Things market segment is poised to hit $117 billion by 2020" 1, comments John Feeney, COO at Perle Systems. "It is important to note, however, that IOT in healthcare is not new to Perle. It is at the heart of every healthcare project Perle has worked on in the last two decades to capture, monitor and transfer data in a private or public cloud."
Hospitals, medical labs, biotech companies and medical device manufacturers need real-time access to up-to-date information.  Integration of patient monitoring equipment, fetal monitors, temperature, glucose level monitors, blood analysers, and other diagnostic devices into the IoT ecosystem is critical for maximum efficiency at minimum cost.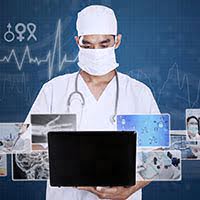 The projects to integrated these devices and sensors have been ongoing for decades.  However, funding allocation, numbers of new devices and the speed at which they are being integrated into the IOT seems to have taken a sharp upswing in recent years.
Over the last year, Perle Systems increased the number of Healthcare customers using Perle device connectivity products by 62%. For instance, St. Joseph's Healthcare use Ethernet Extenders to enable 100% Wi-Fi coverage throughout the hospital. OSM integrated Serial Terminal Servers into the OPUS::L solution to correlate lab data from blood analysers and transmit the results to the correct doctors and wards. Perle device networking hardware can be found providing IoT Ethernet connectivity at Healthcare industry leaders like Baxter International, McKesson, Sanofi, Telnet Healthcare and more.  A partial list of customers and case studies can be found here.
1 MarketResearch.com $117 Billion Market For Internet of Things In Healthcare By 2020 Forbes. 22 April 2015. Web. 13 May 2015
About Perle Systems www.perle.com
Perle Systems is a leading developer, manufacturer and vendor of high-reliability and richly featured connectivity and device networking products. These products are used to connect remote users reliably and securely to central servers for a wide variety of business applications. Product lines include Console Servers, Terminal Servers, Device Servers, Media Converters, Ethernet Copper Extenders, Industrial Ethernet Switches, Ethernet I/O, Serial Cards, Parallel Cards, Remote Power Switches and Multimodem Cards. Since 1976, Perle has distinguished itself through extensive networking technology, depth of experience in major real-world network environments and long-term distribution and VAR channel relationships in major world markets. Perle has offices in 9 countries in North America, Europe and Asia and sells its products through distribution and OEM/ODE channels worldwide.
Contact
pr@perle.com