June 25, 2013
PerleVIEW 2.1 Launched to Manage Long Distance Copper Ethernet
PerleVIEW 2.1 supports the large scale deployment of Perle Ethernet Extenders to securely configure, monitor and manage long range Ethernet communication links.
NASHVILLE, TN - June 25th, 2013 — Perle Systems, a global provider of advanced Ethernet over fiber and secure device networking solutions, releases PerleVIEW 2.1 for enterprise-grade central management of Perle Ethernet Copper Extenders. This multi-user, Windows server-based centralized management package simplifies the configuration, administration, monitoring and troubleshooting of Perle Managed Ethernet Extenders and Fiber Media Converters in medium to large-scale deployments.
PerleVIEW 2.1 solves efficiency and network security issues in environments where large numbers of Ethernet Extenders or Media Converters are deployed to extend a LAN beyond 10,000 feet.
"To manage 10's, 100's or thousands of deployed devices efficiently you need to do it from a centralized server," says Al Davies, Director of Product Marketing at Perle Systems. "That is why Perle continues to invest in the development of PerleVIEW as a platform with built in functionality to ensure network security and reliability."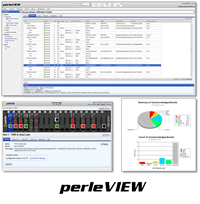 PerleVIEW is the only enterprise-grade device management system that provides a multi-user, server-based solution for managing large scale deployments of Perle Managed Media Converters and Ethernet Extenders.
Customers can download full function copies of PerleVIEW for a free 30-day evaluation period from the Perle Systems website.
Learn more about PerleVIEW.
About Perle Systems www.perle.com
Perle Systems is a leading developer, manufacturer and vendor of high-reliability and richly featured connectivity and device networking products. These products are used to connect remote users reliably and securely to central servers for a wide variety of business applications. Product lines include Console Servers, Terminal Servers, Device Servers, Media Converters, Ethernet Copper Extenders, Ethernet I/O, Serial Cards, Parallel Cards, Remote Power Switches and Multimodem Cards. Since 1976, Perle has distinguished itself through extensive networking technology, depth of experience in major real-world network environments and long-term distribution and VAR channel relationships in major world markets. Perle has offices in 9 countries in North America, Europe and Asia and sells its products through distribution and OEM/ODE channels worldwide.