June 26, 2014
Ethernet Extenders without PoE Power Management Controllers Cause Thousands of Dollars in Damage
NASHVILLE, TN - June 26th, 2014 — Perle Systems, a global manufacturer of device networking hardware issues a warning to users of PoE Ethernet Extenders that do not have a built-in IEEE 802.3af/at compliant PoE Management Controller.
As the economy recovers, network infrastructures are growing. However, Copper-based Ethernet connections are limited to a data transmission distance of 100 meters. Most buildings have unused copper wiring installations left over from telephones, alarm circuits, serial applications, CATV and other equipment. Ethernet Extenders tap into that existing copper wire to transmit Ethernet frames up to 10,000 feet to devices like routers, switches, PCs, digital sensors, VoIP phones, Wi-Fi Access points and IP cameras. PoE plays a critical role in the latter devices listed.
"Security cameras, wireless access points and VoIP phones are commonly needed where AC or DC power is unavailable. Think about ceilings, kiosks, light posts and pipelines", said Al Davies, Director of Product Management at Perle Systems. "PoE Ethernet Extenders enable you to reach these devices, up to 10,000 feet away, and power them over single twisted pair, coax or any other existing copper wiring."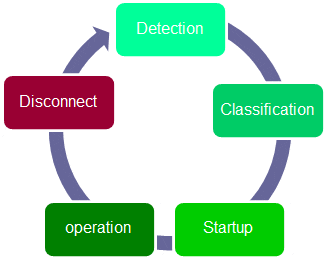 The problem is that almost all PoE Ethernet Extenders on the market operate as simple passive power injectors and always apply 44-57volts of power to the RJ45 port pins. This results in severe damage to connected equipment if non-PoE compliant Ethernet devices are accidently connected. This happens all too often by staff at remote sites resulting in thousands of dollars lost to equipment replacement.
"When setting up a network in locations that are distant or difficult to access, engineers are looking for connectivity equipment that is simple, functional and reliable," explains Al Davies. "Built-in PoE Management Controllers are the difference between a Powered Device under control and a disaster waiting to happen."
Years ago, users demanded that manufactures of Power Sourcing Equipment (PSE), like Switches, Media Converters and Mid-Span Injectors, put safety checks in place to eliminate equipment damage. Manufactures stepped up by using built-in PoE Power Management Controllers that meet the low voltage requirements of the Safety Extra Low Voltage (SELV) Standard part of IEEE 802.3af/at.
PoE Ethernet Extenders following this standard were not availavble...until now.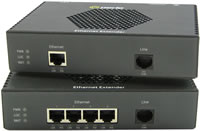 Perle offers the only PoE Ethernet Extenders on the market that have a fully compliant IEEE 802.3af built-in PSE controller. This means it can tell, through signature detection, whether or not an attached Ethernet device is PoE capable. Therefore, Perle has the only offering where PoE and non-PoE devices can be safely attached to the Ethernet Extender.
In addition, Perle PoE Ethernet Extenders are fully compliant to operate as a Powered Device (PD) supporting end-span and mid-span power sources (PSE).
Perle urges all Network Administrators to protect the investment they have made in all PoE and non-PoE devices and ensure that the next PoE Ethernet Extender needed in network expansion has a built-in IEEE 802.3af/at compliant PoE Management Controller.
Read Perle's technical note to learn more about the benefits of using PoE Power Management Controllers in Power Sourcing Equipment.
About Perle Systems www.perle.com
Perle Systems is a leading developer, manufacturer and vendor of high-reliability and richly featured connectivity and device networking products. These products are used to connect remote users reliably and securely to central servers for a wide variety of business applications. Product lines include Console Servers, Terminal Servers, Device Servers, Media Converters, Ethernet Copper Extenders, Industrial Ethernet Switches, Ethernet I/O, Serial Cards, Parallel Cards, Remote Power Switches and Multimodem Cards. Since 1976, Perle has distinguished itself through extensive networking technology, depth of experience in major real-world network environments and long-term distribution and VAR channel relationships in major world markets. Perle has offices in 9 countries in North America, Europe and Asia and sells its products through distribution and OEM/ODE channels worldwide.
Contact
pr@perle.com