October 5, 2010
Perle Systems Launches Compact 8-port RS232 to Ethernet Terminal Server
New 8-Port Secure Terminal Server provides security and investment protection for evolving networks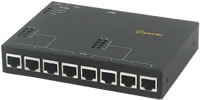 NASHVILLE, TN - October 5, 2010— Perle Systems, a global provider of advanced serial to Ethernet and secure device networking solutions, today announced the expansion of its IOLAN STS family with the release of a compact 8-port RS232 Terminal Server - the IOLAN STS8-D. Featuring the most extensive range of encryption and authentication technologies available today, and the power of a high-performance 87-MIP processor, this terminal server is ideal for secure console management, confidential serial data encryption, and simple serial to Ethernet applications. The robust security, flexibility and advanced IP technology of the IOLAN STS8-D help organizations increase the value of their serial-based equipment. This is achieved by allowing secure information delivery across an existing Ethernet network without the need for costly and complex infrastructure changes.
"The IOLAN STS enables any high-value serial device to be cost-effectively managed and monitored across existing Ethernet networks", says John Feeney, Chief Operating Officer at Perle Systems. "With built-in support for IPv6 and the most comprehensive range of authentication and encryption technologies, these terminal servers provide the best investment for serial to Ethernet connectivity."
The IOLAN STS8-D is the smallest secure 8-port desktop Serial Terminal Server in the market. It is easy-to-install and ideal for connecting up to 8 RS232 serial-based COM port, UDP or TCP socket-based applications to Ethernet.
The advanced encryption technology in the IOLAN STS8-D protects sensitive and confidential data from a serial device, such as a credit card reader, before being sent. Administrators can also securely access remote serial console ports on equipment such as PBX, servers, routers, network storage equipment and security appliances through an IP network. Standard encryption tools such as Secure Shell (SSH) and Secure Sockets Layer (SSL) provide added protection. Authentication schemes such as RADIUS, TACACS+, Kerberos, LDAP and RSA Security's SecurID ensure easy and secure access for users.
Learn more about the IOLAN STS8-D Terminal Server.
About Perle Systems www.perle.com
Perle Systems is a leading developer, manufacturer and vendor of high-reliability and richly featured connectivity and device networking products. These products are used to connect remote users reliably and securely to central servers for a wide variety of business applications. Product lines include Console Servers for Data Center Management, Terminal Servers, Device Servers, Remote Power Switches, Media Converters, Ethernet I/O, Serial Cards, Parallel Cards and Multimodem Cards. Perle distinguishes itself through extensive networking technology, depth of experience in major real-world network environments and long-term distribution and VAR channel relationships in major world markets. Perle has offices in 9 countries in North America, Europe and Asia and sells its products through distribution and OEM/ODE channels worldwide.
Contact
pr@perle.com