October 30, 2012
PerleVIEW Central Management Software Upgraded to Support
Windows Server 2012
PerleVIEW 1.1 now operates under Windows Server 2012 to simplify configuration, administration, monitoring and troubleshooting of medium to large-scale fiber media converter deployments.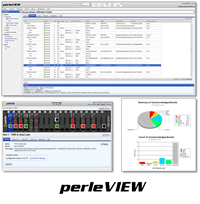 NASHVILLE, TN - October 30th, 2012 — Perle Systems, a global provider of advanced Ethernet over fiber and secure device networking solutions, releases PerleVIEW 1.1 for enterprise-grade central management of Perle Managed Media Converters. This multi-user, Windows server-based centralized management package simplifies the configuration, administration, monitoring and troubleshooting of Perle Fiber Media Converters in medium to large-scale deployments. The latest version of PerleVIEW now operates under Windows Server 2012, in addition to previous versions of Windows Server 2003 and Windows Server 2008.
"To remotely access and manage large numbers of deployed devices one at a time is extremely inefficient and insecure," says Al Davies, Director of Product Marketing. "So, our customers asked us to develop a centralized management tool for large scale Perle Media Converter installations. PerleVIEW is that tool."
PerleVIEW is the only enterprise-grade device management system that provides a multi-user, server-based solution for managing large scale deployments of media converters. This enterprise-grade solution is purpose built to work with Perle Managed Media Converters and is based on standardized Windows Server and SQL functionality to ensure security and reliability. Network Administrators, using their Internet Browser, can securely access PerleVIEW and manage 10's, 100's or thousands of Perle Media Converters from a centralized server. Customers can download full function copies of PerleVIEW for a free 30-day evaluation period from the Perle Systems website.
About Perle Systems www.perle.com
Perle Systems is a leading developer, manufacturer and vendor of high-reliability and richly featured connectivity and device networking products. These products are used to connect remote users reliably and securely to central servers for a wide variety of business applications. Product lines include Console Servers for Data Center Management, Terminal Servers, Device Servers, Remote Power Switches, Media Converters, Ethernet I/O, Serial Cards, Parallel Cards and Multimodem Cards. Perle distinguishes itself through extensive networking technology, depth of experience in major real-world network environments and long-term distribution and VAR channel relationships in major world markets. Perle has offices in 9 countries in North America, Europe and Asia and sells its products through distribution and OEM/ODE channels worldwide.