October 30, 2013
Perle Systems' Device Networking Solutions Help Rackspace®
Hosting Optimize Customer Uptime
Perle IOLAN Console Servers are used for pre-configuration and network troubleshooting in all Rackspace Data Centers to support delivery of 100% Uptime Service Level Agreements.
NASHVILLE, TN - October 30th, 2013 — Perle Systems, a global provider of advanced serial to Ethernet and secure device networking solutions, today reveals that Rackspace® Hosting (NYSE: RAX), the open cloud company, use IOLAN Console Servers to help facilitate fulfilment of Uptime Service Level Agreements (SLAs).

Businesses around the world depend on Rackspace hybrid cloud services through an extensive network of global data centers. To offer 100 percent uptime SLAs to customers, Rackspace runs an internal network which is used to manage, maintain and troubleshoot these data centers. Among other mission critical devices on the internal network are Perle IOLAN Console Servers fulfilling various requirements including pre-deployment into newly constructed server rooms, pre-configuration of devices prior to rack installation and troubleshooting if the network is down.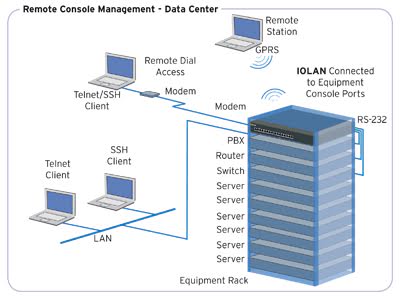 "When we first start building a new room, we have very little connectivity but we still need to get switches racked and configured," explains John Progar, network engineer at Rackspace. "By placing a Perle Console Server in that room, we can get gear racked and powered immediately. We then configure everything from our desks instead of out on the data center floor with a laptop."
"If we're going to add a switch somewhere, we need to apply some configuration to it so that once it's racked we can access it. This is done with a Perle Console Server in our office. Once we have the configuration applied, we can rack them in the data center," adds Progar.
"Some Perle Console Servers are actually live on the public Internet and are a last-resort door into the network in case of a catastrophic failure. Some of our gear is in un-manned facilities and we depend on those devices to minimize the number of four-hour trips we have to take."
Perle IOLAN Console Servers bridge the distance between remote IT equipment and technical support staff. Any device with serial connections can be networked and managed remotely - even across the Internet.
To learn more, read the complete Rackspace Console Server Case Study on Perle System's website.
About Perle Systems www.perle.com
Perle Systems is a leading developer, manufacturer and vendor of high-reliability and richly featured connectivity and device networking products. These products are used to connect remote users reliably and securely to central servers for a wide variety of business applications. Product lines include Console Servers, Terminal Servers, Device Servers, Media Converters, Ethernet Copper Extenders, Ethernet I/O, Serial Cards, Parallel Cards, Remote Power Switches and Multimodem Cards. Since 1976, Perle has distinguished itself through extensive networking technology, depth of experience in major real-world network environments and long-term distribution and VAR channel relationships in major world markets. Perle has offices in 9 countries in North America, Europe and Asia and sells its products through distribution and OEM/ODE channels worldwide.
Contact
pr@perle.com