PSM-ME-RS485/RS485-P Repeater
RS485 to RS485 Repeater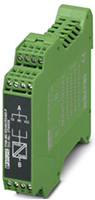 Amplify RS485 signals up to 1.2km [4000 feet]
Add 32 nodes to an RS-485 data circuit
Transmission speeds up to 1.5 Mbps
3-way isolation between all interfaces
Boost, or amplify, RS-485 signals to cover longer distances with the PSM-ME-RS485 Repeater. By using differential voltage lines for data and control signals RS-485 repeaters overcome the limitations of standard serial ports. This allows you to add 4,000 feet (1.2 km) and 32 nodes to an RS-485 data circuit. In addition, 3-way isolation protects devices from transient surges and ground loops on the data line.
The PSM-ME-RS485 repeater was developed for the high requirements of fieldbus systems. The device can be powered by wall-mount AC or snapped onto standard DIN rails and supplied with 24 V DC or AC.
The PSM-ME-RS485 repeater can be used in all common 2-wire bus systems: Modbus, RACKBUS (Endress &Hauser), SUBCONET-K (Moeller), UNI-TELWAY (Telemecanique), DANBUS (Danfoss), RS-BUS (Landis & Staefa), NET 2000 (B&R), INSUM (ABB), J-BUS (Merlin Gerin), ET-WAY (Jetter), S-BUS (SAIA) and around 60 more company-specific bus systems.
For potential separation and range increase in RS-485 2-wire bus systems, the PSM-ME-RS485 repeater is the optimal solution.
RS485 Repeater Features
Supports all popular 10/11-bit UART data formats
Automatic transmit/receive changeover
Transmission speeds of 1.2 kbps up to 1.5 Mbps
Integrated, connectable termination resistors
High-quality 3-way isolation between all interfaces
Integrated surge protection with transient discharge to the DIN rail
Supply voltage of 24 V DC or AC to suit the control cabinet
Plug-in screw connection terminal blocks
Space-saving slim 22.5 mm device
Shipbuilding approval per DNV





PSM-ME-RS485/RS485-P Technical Specifications
Serial interface
Interface 1
RS-485 interface, in acc. with EIA/TIA-485, DIN 66259-4/RS-485 2-wire
Operating mode
Semi-duplex
Connection method
Pluggable screw connection
File format/coding
UART (11/10 bit switchable; NRZ)
Data direction switching
Automatic control, min. station response time 1 bits
Transmission medium
2-wire twisted pair, shielded
Transmission length
≤ 1200 m (depends on transmission speed, bus system and cable type)
Cascadability
9 (4,8 ... 93,75 kbps)
8 (115.2 kbps)
7 (136 kbps)
6 (187.5 kbps)
5 (375 ... 1500 kbps)
Termination resistor
390 Ω
180 Ω
390 Ω (Can be connected)
Conductor cross section flexible min.
0.2 mm²
Conductor cross section flexible max.
2.5 mm²
Conductor cross section AWG min.
24
Conductor cross section AWG max.
12
Protocols supported
transparent protocol
Serial transmission speed
1.2 / 2.4 / 4.8 / 9.6 / 19.2 / 38.4 / 57.6 / 75 / 93.75 / 115.2 / 136 / 187.5 / 375 / 500 / 1500 kbps
Interface 2
RS-485 interface, in acc. with EIA/TIA-485, DIN 66259-4/RS-485 2-wire
Operating mode
Semi-duplex
File format/coding
UART (11/10 bit switchable; NRZ)
Data direction switching
Automatic control, min. station response time 1 bits
Transmission medium
2-wire twisted pair, shielded
Transmission length
≤ 1200 m (depends on transmission speed, bus system and cable type)
Cascadability
9 (4,8 ... 93,75 kbps)
Conductor cross section flexible min.
0.2 mm²
Conductor cross section flexible max.
2.5 mm²
Conductor cross section AWG min.
24
Conductor cross section AWG max.
12
Protocols supported
transparent protocol
Serial transmission speed
1.2 / 2.4 / 4.8 / 9.6 / 19.2 / 38.4 / 57.6 / 75 / 93.75 / 115.2 / 136 / 187.5 / 375 / 500 / 1500 kbps
Ambient Conditions
Ambient temperature (operation)
-40 °C ... 70 °C
Ambient temperature (storage/transport)
-40 °C ... 85 °C
Permissible humidity (operation)
10 % ... 95 % (non-condensing)
Altitude
5000 m (For restrictions see manufacturer's declaration)
Degree of protection
IP20
Noise immunity
EN 50 082-2
General
Electrical isolation
VCC // RS-485 (A) // RS-485 (B)
Test voltage data interface/power supply
1.5 kVrms (50 Hz, 1 min.)
Electromagnetic compatibility
Conformance with EMC Directive 2014/30/EU
Net weight
188.8 g
Housing material
PA 6.6-FR
Color
green
MTTF
1808 Years (SN 29500 standard, temperature 25°C, operating cycle 21 % (5 days a week, 8 hours a day))
796 Years (SN 29500 standard, temperature 40 °C, operating cycle 34.25 % (5 days a week, 12 hours a day))
334 Years (SN 29500 standard, temperature 40°C, operating cycle 100 % (7 days a week, 24 hours a day))
Conformance
CE-compliant
ATEX
II 3 G Ex nA IIC T4 Gc (Please follow the special installation instructions in the documentation!)
UL, USA/Canada
508 recognized
Noise emission
EN 50 081-1
Transmission channels
2 (1/1), TD, RD, half duplex
Bit delay
< 200 ns
Bit distortion
< 1.5 %
Test voltage data interfaces
1.5 kV AC
Test voltage data interface/power supply
1.5 kV AC
Degree of pollution
2
IECEx
Ex nA IIC T4 Gc
Bit distortion, input
max. ± 35 %
Bit distortion, output
< 3.6 %
Power supply
Nominal supply voltage
24 V AC/DC
Supply voltage range
18 V AC/DC ... 30 V AC/DC (via pluggable COMBICON screw terminal block)
Typical current consumption
90 mA (24 V DC)
Max. current consumption
100 mA
Conductor cross section flexible max.
2.50 mm²
Conductor cross section flexible min.
0.20 mm²
Conductor cross section solid max.
2.50 mm²
Conductor cross section solid min.
0.20 mm²
Max. AWG conductor cross section, flexible
12
Min. AWG conductor cross section, flexible
24
Conductor cross section AWG max.
12
Conductor cross section AWG min.
24
Dimensions
Width
22.5 mm
Height
99 mm
Depth
114.5 mm
Environmental Product Compliance
China RoHS
Environmentally Friendly Use Period = 50
Reach and RoHS Compliant
Reach and RoHS Compliant
Standards and Regulations
Electromagnetic compatibility
Conformance with EMC Directive 2014/30/EU
Free fall
In acc. with IEC 60068-2-32
Result: 1 m
Vibration resistance
In acc. with EN 60068-2-6/IEC 60068-2-6
Result: 5g, 10...150 Hz, 2.5 h, in XYZ direction
EMC Immunity
EN 61000-4-2: Contact discharge ± 6 kV (Test Level 3), Indirect discharge ± 6 kV (Test Level 3)
EN 61000-4-3: Frequency range 26 MHz ... 3 GHz (Test Level 3)
EN 61000-4-4: Criterion B
EN 61000-4-5: Signal ± 1 kV (Data line, asymmetrical)
EN 55011
EN 61000-4-6: Frequency range 0.15 MHz ... 80 MHz

Conformance
CE-compliant
ATEX
II 3 G Ex nA IIC T4 Gc
UL, USA/Canada
508 recognized
Noise emission
EN 50 081-1
Noise immunity
EN 50 082-2
Shock
In acc. with EN 60068-2-27/IEC 60068-2-27
Result: 25g, 11 ms period, half-sine shock pulse
Connection in acc. with standard
CUL
IECEx
Ex nA IIC T4 Gc
UL, USA/Canada
Class I, Div. 2, Groups A, B, C, D
Class I, Zone 2, AEx nA IIC T4
Class I, Zone 2, Ex nA IIC T4 Gc X
Approvals
UL Recognized
cUL Recognized
DNV
EAC
KC
cULus Recognized
UL Listed
cUL Listed
IECEx
ATEX
cULus Listed
Commercial data
Packing unit
1
Weight per piece
202.0 g
Country of origin
Germany
PSM-ME-RS485/RS485-P Repeater Applications
Electrical isolation and bus segmentation
Increasing system availability
Increasing the range
Increasing the transmission speed
Extending the number of devices
Creation of mixed and network structures
Linear Network Diagram
The PSM-ME-RS485 repeater can be used to create network structures that are tailored to the relevant application. The limits set by the RS-485 standard are therefore extended. The standard defines the following basic specifications:

Up to 32 devices per potential segment
Only line structures
Maximum bus cable length: 1200 m
Maximum branch line length without termination resistor: 5 m, depending on the transmission speed
Bus cable termination at the start and end of the bus cable
Block diagram