Perle Systems Case Study
Athens International Airport use Perle Ethernet Extenders to manage and power security cameras and wireless access points
Utilizing existing 2-wire twisted pair cabling to safeguard and future proof IT installations
Sophisticated video surveillance systems are capable of more than deterring crime and capturing high-resolution video and pictures to aid in criminal investigations. They also help improve operational effectiveness for businesses and municipalities. For instance, they can be used to detect downtime issues along conveyor belts found in production facilities or baggage handling. In high traffic areas, they are used for people counting and traffic flow management. And heat mapping, customer flow, and queue-counter analytics can be used to gain insights to improve sales operations.

But, to accomplish these things, high-quality IP cameras need to be strategically located throughout areas that require surveillance. These locations, in a ceiling, at the top of a light pole, or on the side of a building will rarely have an AC or DC power source nearby. In addition, the cameras will often be located more than 100 meters apart, the maximum data transmission distance for copper-based Ethernet. This is when surveillance system technicians, designers, and installers will reach for a PoE Ethernet Extender.
Let's take Athens International Airport (AIA), with a capacity of 16 million passengers per year, as an example. According to George Delikouras, Senior Project Manager at AIA, "When the airport was built in 2001 the telephony was digital and there were no VoIP or CCTV security cameras. 2-wire twisted pair cable was installed horizontally and vertically throughout the two airport terminals which made up the backbone of the IT network."
Delikouras needed to find a solution that would allow him to transmit data further than 100 meters from new security cameras, information kiosks, VoIP telephones, tag printers, and Wireless Access Points (WAPs) that were being added to the network. But how to do this, throughout the airport grounds, without replacing the existing 2-wire twisted pair cabling?
Delikouras found that various Perle PoE Ethernet Extenders would provide a secure solution that could be managed centrally.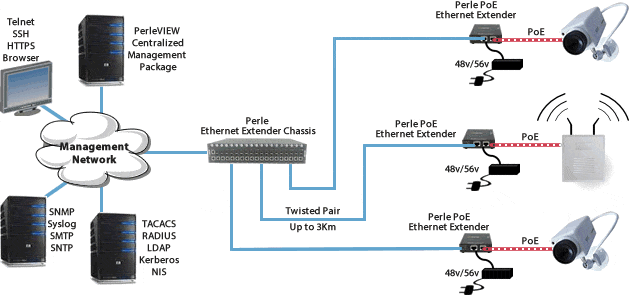 MCR1900 Rackmount Chassis, each filled with 18 Managed Ethernet Extenders are located in numerous wiring closets around the airport grounds. This simplifies deployment and maintenance and provides a scalable means for the network to grow. The 19th slot in each chassis is filled with and MCR-MGT Management Module. This ensures the system is protected from unauthorized users through the use of AAA security services, such as TACACS+, RADIUS, LDAP, Kerberos, NIS, and RSA, as well as SSH/SSL, SNMPv3, Telnet, and HTTPS secure management sessions. And, Delikouras centrally manages the entire system through PerleVIEW, an Enterprise-grade, multi-user, Windows server-based centralized management package that simplifies configuration, administration, monitoring, and troubleshooting.
Stand-alone PoE Ethernet Extenders are then strategically located within 100m of cameras, WAPs, and other equipment that needs up to 30Watts of power. Functioning as an Ethernet Copper Extender and PoE injector all in one device, this reduces the number of points of failure in the network.
Delikouras comments, "We were able to save a lot of money by leveraging existing cabling that is still perfectly good. In locations in and around the terminal buildings, wherever feasible, Perle is deployed. We have found more and more applications where Perle equipment can protect our investments and future-proof our network. I am expecting that some of the installed Perle Ethernet Extenders will be permanent as they combine modern technologies enabling contemporary services while providing compatibility over existing copper cabling. Overall, solutions from Perle, extend the life of infrastructure and give us time to plan for the future."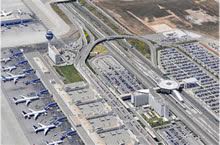 Athens International Airport currently has an installed base of over 350 Perle Ethernet Extenders, some Managed, some with PoE capabilities, others with -40°C to +75°C operating temperature ratings.
About Athens International Airport: – https://www.aia.gr/
Athens International Airport Eleftherios Venizelos (Greek: Διεθνής Αερολιμένας Αθηνών «Ελευθέριος Βενιζέλος», Diethnís Aeroliménas Athinón "Elefthérios Venizélos"), commonly initialized as AIA (IATA: ATH, ICAO: LGAV), is the largest international airport in Greece, serving the city of Athens and region of Attica. It began operation on 28 March 2001 (in time for the 2004 Summer Olympics) and is the main base of Aegean Airlines, as well as other smaller Greek airlines. It is located near the old Ellinikon International Airport. Athens International is currently a member of Group 1 of Airports Council International (over 25 million) as of 2019, it is the 26th-busiest airport in Europe.