April 19, 2016
BBC use Fiber Media Converters in Mobile tool-kit for Live Audio Transmission
Unpredictable nature of live-events coverage mean Audio Engineers need to be prepared for all types of structured cabling
NASHVILLE, TN - April 19th, 2016 — Being the largest Broadcaster in the word, quality control is tight at the BBC. Renowned for world class news coverage, the BBC is also expected to provide high quality audio and visual broadcasting. Building on the "live experience", the BBC has been covering major events such as the London 2012 Olympics, Wimbledon, Glastonbury Festival, folk festivals, major elections, royal weddings and remembrances – live on location.

Each live-event is unique and brings with it technology challenges for transmission to be in real-time and of high quality. Perle Systems, a global manufacturer of advanced Fiber Media Converters and secure device networking solutions, reveals that the BBC use Perle Protocol Transparent Media Converters at these events to transmit multimode audio data over single mode fiber.
When on location, audio engineers never know what type of structured cabling will be available for audio transmission. However, they have frequently found that they have access to single mode fiber.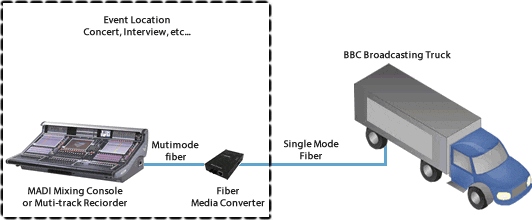 Because the MADI consoles used by the BBC support multimode fiber, they needed a multimode to single mode converter in the "mobile tool-kit".  This would allow for seamless multimode to single mode conversion and transmission of the MADI audio data without disturbance or interference.
For more details read the full BBC Case Study.
About the BBC: www.bbc.co.uk
The BBC is the world's leading public service broadcaster. Its mission is to enrich people's lives with programmes that inform, educate and entertain. Established by a Royal Charter, the BBC is a public service broadcaster funded by the licence fee paid by UK households. We use the income from the licence fee to provide services including 10 national TV channels plus regional programming, 10 national radio stations, 40 local radio stations and an extensive website.
BBC World Service broadcasts to the world on radio, on TV and online, providing news and information in 27 languages and world service English language.
Contact
pr@perle.com