SFP to SFP Protocol Transparent Media Converters
Fiber Mode Conversion
Perle SFP to SFP protocol-independent media converters enable network administrators to incorporate multiple fiber types and wavelengths in, or between, networks. Numerous fiber to fiber mode conversion applications are possible and all result in significant cost saving when compared to replacing an optical blade on network equipment.
Easy network extension to remote locations by converting Multimode to Multimode, Multimode to Single Mode, Single Mode to Single Mode and dual to single fiber ( Duplex to Simplex BiDi )
Operate as a Wave Division Multiplexing (WDM) transponder by converting different optical signals to a specific CWDM or DWDM wavelength
Protocol-transparency enables support for all network protocols
Rate-transparency enables support for SFP transceivers with data rates up to 4.25 Gbps
Reliable operation is ensured with advanced features like and Fiber Fault Alert
Perle SFP to SFP Protocol Transparent Fiber Mode Converters are available in the following form factors
For low to mid-density applications, choose Standalone models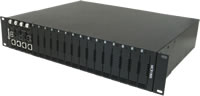 Need help? Contact Perle.