March 12, 2019
Perle launches Console Servers with integrated 4G LTE for Out-of-Band-Management
Secure Console Server with integrated 4G LTE Cellular Access and support for up to 50 USB and RS232 Console Ports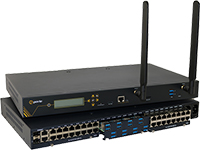 NASHVILLE, TN — March 12, 2019 — Perle Systems, a global provider of advanced serial to Ethernet and device networking hardware, today released the IOLAN SCG L Secure Console Servers as an advanced IT Infrastructure Management Solution with integrated 4G LTE.
When an IT Administrator needs to monitor, manage, trouble-shoot or re-boot critical IT assets, they will generally access the devices directly over an Ethernet network. However, this single point of access is not enough in environments where 24/7 uptime is expected, or if IT assets are in difficult to access off-site locations or controlled server rooms. This is when Secure Console Servers are needed. They give Administrators a secure way to remotely access the USB or RS232 console management port of every device on the network.
The new IOLAN SCG L Console Servers come with built-in high-speed 4G LTE with HSPA+, UMTS, EDGE and GPRS/GSM fallback networks to protect out-of-band management infrastructure against wired LAN failure. They can also be used to transmit serial data, or establish a direct serial to serial peer connection, over cellular networks. This is ideal when devices are located where hardwired Ethernet connections are not available but cellular networks, with their affordable data packages, are accessible.
IOLAN SCG L Console Servers also offer up to three additional secure remote access methods to critical network devices.
Any dual combination of the two 10/100/1000Base-T Copper Ports and two 100/1000Base-X SFP Fiber Ports.
Built-in WiFi network access over dual-band radio antennas.
An on-board RJ11 V.92 modem connection.
The modular IOLAN SCG L Console Servers, with 18, 32, 34, 48 or 50 Console Management Ports, support both RS232 RJ45 and USB connectivity to console ports on equipment such as routers, switches, firewalls, servers, PBXs, network storage equipment and security appliances. The modular design of the IOAN SCG allows the user to swap, upgrade and scale to any "mix-and-match" combination of 16-port USB 3.0 or RS-232 RJ45 interface module cards.
"Every network is unique," comments John Feeney, COO at Perle Systems. "When it comes to in-and-out-of-band-management of IT assets, these new modular 'mix and match' Console Servers allow multiple layers of accessibility to ease deployment frustrations, while future proofing existing investments."
With advanced network security features, recognized authentication schemes and standard data encryption tools, IT administrators can feel confident that network data transmissions, and all access to the console admin ports on IT equipment, is secure.
All Perle IOLAN Console Servers only use high-end components to ensure product reliability. Perle backs this up with a Lifetime Warranty to guarantee user satisfaction.
Find out more about IOLAN SCG Console Servers with 4G LTE.
Contact
pr@perle.com