August 30, 2012
Priority Communications Picks Perle Media Converters to Extend an Ethernet Network
Perle Media Converters are installed by Priority Communications to resolve Ethernet distance limitations and improve network performance in a large warehouse environment.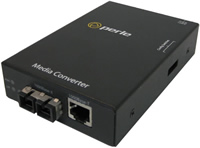 NASHVILLE, TN - August 30th, 2012 — Perle Systems, a global provider of advanced Ethernet over fiber and secure device networking solutions, announced that Priority Communications selected Perle Media Converters to improve network distance and speed in a machine shop warehouse.
All copper-based Ethernet connections, like the one at the machine shop, are limited to a data transmission distance of only 100 meters. Priority Communications needed to extend this link over a greater distance and simultaneously improve network speed.
To do this Bill Cesan at Priority Communications decided to install some multimode fiber and Perle Ethernet to Fiber Media Converters. Bill describes the application, "The converters are used in a large warehouse environment with locations pushing Ethernet limitations. So, a fiber cable was run, point to point, media converters put on each end with router and switch, and now machine shop management has high speed network activity. Working flawlessly ever since."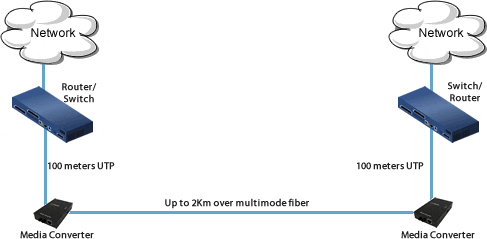 Electrical signals propagate along a cable very quickly, but they weaken as they travel, and electrical interference from neighbouring devices (fluorescent lights, noise) can scramble the signal. A copper network cable must be short enough that devices at opposite ends can receive each other's signals clearly and with minimal delay. This places a distance limitation on the maximum separation between two devices on a copper-Ethernet network. Perle Media Converters transparently connect copper to fiber, and provide an economical path to extend the distance of an existing network, the life of non-fiber based equipment, or the distance between two devices.
Read full story in the Priority Communications Case Study.
About Priority Communications http://www.prioritycom.com/
Priority Communications is a privately held telecommunications company established in 1989.
About Perle Systems www.perle.com
Perle Systems is a leading developer, manufacturer and vendor of high-reliability and richly featured connectivity and device networking products. These products are used to connect remote users reliably and securely to central servers for a wide variety of business applications. Product lines include Console Servers for Data Center Management, Terminal Servers, Device Servers, Remote Power Switches, Media Converters, Ethernet I/O, Serial Cards, Parallel Cards and Multimodem Cards. Perle distinguishes itself through extensive networking technology, depth of experience in major real-world network environments and long-term distribution and VAR channel relationships in major world markets. Perle has offices in 9 countries in North America, Europe and Asia and sells its products through distribution and OEM/ODE channels worldwide.