Managed Media Converter Firmware v1.8
December 2, 2014
Perle continues to enhance Managed Media Converters
Firmware v1.8 launches with additional authentication features for Managed Media Converters
NASHVILLE, TN - December 2, 2014 — Perle Systems, a manufacturer of advanced Ethernet over fiber and secure device networking solutions, releases Firmware v1.8 for Managed Media Converters. Perle Managed Media Converters support authentication, authorization and accounting (AAA) security protocols used in corporate networks. To further protect ID's and passwords from someone 'snooping' on the network, Perle Managed Media Converters provide secure management sessions by supporting SSH, SNMPv3, Telnet and HTTPS.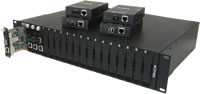 Firmware release v1.8 incorporates authentication updates for Simple Network Time Protocol Authentication (SNTP).
"Perle is committed to safeguarding the long-term investment in Perle equipment," says John Feeney, Chief Operating Officer at Perle Systems. "By continued product development and new firmware releases, we ensure our products evolve with the current and future technology demands of our growing customer base."
Perle offers over 830 separate models of Fiber Media Converters, of which 286 are Managed Media Converters, to transmit 10BaseT, Fast Ethernet, Gigabit and 10 Gigabit Ethernet over fiber. All Perle Media Converters come with a Lifetime Warranty, use high-end components and have an on-board high-reliability microcontroller to deal with link error detection and recovery.
Firmware v1.8 for Managed Media Converters is available to customers as a download from Perle's website.
Learn more about Perle Managed Media Converters.
Experience the Perle Managed Media Converter Online Demo.
About Perle Systems www.perle.com
Perle Systems is a leading developer, manufacturer and vendor of high-reliability and richly featured connectivity and device networking products. These products are used to connect remote users reliably and securely to central servers for a wide variety of business applications. Product lines include Console Servers, Terminal Servers, Device Servers, Media Converters, Ethernet Copper Extenders, Industrial Ethernet Switches, Ethernet I/O, Serial Cards, Parallel Cards, Remote Power Switches and Multimodem Cards. Since 1976, Perle has distinguished itself through extensive networking technology, depth of experience in major real-world network environments and long-term distribution and VAR channel relationships in major world markets. Perle has offices in 9 countries in North America, Europe and Asia and sells its products through distribution and OEM/ODE channels worldwide.
Contact
pr@perle.com