December 11, 2014
Bally Technologies integrate Perle IOLAN Terminal Servers
Terminal Servers allow Bally Technologies to simplify their IT architecture, move equipment off the slot floor and increase data throughput
NASHVILLE, TN - December 11, 2014 — Perle Systems, a global provider of advanced serial to Ethernet and secure device networking solutions, reveals that Bally Technologies use Perle Serial to Ethernet Terminal Servers to offer High Availability (HA) in their latest ACSC™ virtualization platform.

"We are really excited about this," says Mike Grawl, Director of Technical Services at Bally Technologies. "Being able to offer High Availability to our customers is ground-breaking and unprecedented in our industry."
Bally's ACSCTM product line manages casino, slots, and hospitality data to improve customer service time and increase patron satisfaction. The real-time integration of these systems lets casinos structure custom-tailored bonus programs. Bally's utilization of Perle IOLAN Terminal Servers, simplifies the IT structure, creates a more dynamic and flexible virtualization platform and gives High Availability (HA) to their customer base through:
server consolidation which reduces capital expenses,
automation resulting in improved operating expenses and
reduction of downtime minimizing lost revenue.
"Perle Engineers worked with us extensively to find and optimise the solution in order to meet and exceed communications speeds," says Ken McCord, Lead QA Analyst at Bally Technologies.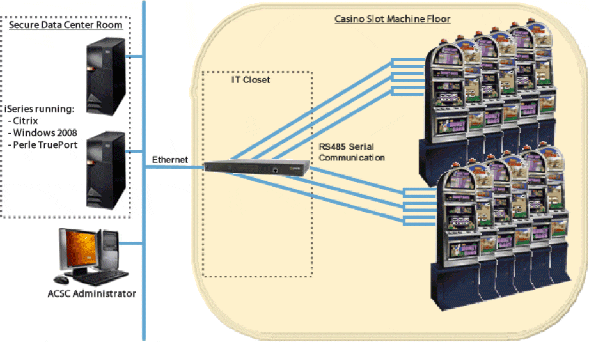 After extensive testing Bally implemented a network architecture featuring two Citrix servers communicating with Perle IOLAN SDS32C Terminal Servers that manage the network connectivity and data throughput of hundreds of slot machines on casino gaming floors. To find out more, read the full Bally Technologies case study.
About Bally www.ballytech.com
With a history dating back to 1932, Bally Technologies is the oldest slot manufacturing company in the world, and inventor of the first slot data system. Bally Technologies, based in Las Vegas, designs, manufactures, operates, and distributes advanced gaming devices, systems and technology solutions worldwide. Bally's product line includes reel-spinning slot machines, video slots, wide-area progressives, interactive and mobile applications, and Class II, lottery, and central-determination games and platforms. Bally also offers an array of casino management, slot accounting, bonusing, cashless and table management solutions.
About Perle Systems www.perle.com
Perle Systems is a leading developer, manufacturer and vendor of high-reliability and richly featured connectivity and device networking products. These products are used to connect remote users reliably and securely to central servers for a wide variety of business applications. Product lines include Console Servers, Terminal Servers, Device Servers, Media Converters, Ethernet Copper Extenders, Industrial Ethernet Switches, Ethernet I/O, Serial Cards, Parallel Cards, Remote Power Switches and Multimodem Cards. Since 1976, Perle has distinguished itself through extensive networking technology, depth of experience in major real-world network environments and long-term distribution and VAR channel relationships in major world markets. Perle has offices in 9 countries in North America, Europe and Asia and sells its products through distribution and OEM/ODE channels worldwide.
Contact
pr@perle.com