February 24, 2011
Perle Systems Announces Online Demo of IP Managed Media Converters
Navigate Perle's Managed Media Converter over the Internet, and experience the easiest and most powerful management media converter system on the market.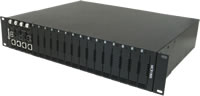 NASHVILLE, TN - February 24th, 2011— Perle Systems, a global provider of advanced fiber to Ethernet and secure device networking solutions announces the availability of a Managed Media Converter Online Demo. Ethernet to Fiber Media Converters enable connections of UTP copper-based Ethernet equipment over a fiber optic link to take advantage of the benefits of fiber.  The online demo allows customers to get familiar with the extensive security, network integration and ease of use features that come standard with all Perle Managed Media Converters.
The live online demo allows visitors to navigate the management screens of a MCR-1900 chassis with an MCR-MGT management module and a number of managed media converters.  The provided User ID and Password is verified by a Cisco ACS TACACS+ authentication server.
Perle's Managed Media Converters support all authentication, authorization and accounting (AAA) security services used in corporate networks, including TACACS+, RADIUS, LDAP, Kerberos, NIS and RSA. To further protect ID's and passwords from someone 'snooping' on the network, management session data is protected through encryption via SSH and HTTPS connections
"Users expect that corporate firewalls, switches and routers are protected by AAA security services and session data encryption," says Al Davies, Director of Product Management at Perle Systems. "It should be expected that this protection is also available in your Managed Media Converter."
The live online demo can be found at https://www.perle.com/demo/media-converter.aspx.  Participants can operate the demo on their own or with assistance from a Perle specialist.
Perle offers over 300 Media Converter models to connect 10BaseT, Fast Ethernet and Gigabit to fiber. This enables Perle to offer a solution to connect any fiber and copper cable type and distance. All Perle Media Converters have an on-board microcontroller which deals with error detection and recovery. And, Perle Media Converters only use high-end components to ensure product reliability. Perle backs this up with a Lifetime Warranty to guarantee user satisfaction.
Learn more about Perle's Managed Media Converters.
Experience the Perle Managed Media Converter Online Demo.
About Perle Systems www.perle.com
Perle Systems is a leading developer, manufacturer and vendor of high-reliability and richly featured connectivity and device networking products. These products are used to connect remote users reliably and securely to central servers for a wide variety of business applications. Product lines include Console Servers for Data Center Management, Terminal Servers, Device Servers, Remote Power Switches, Media Converters, Ethernet I/O, Serial Cards, Parallel Cards and Multimodem Cards. Perle distinguishes itself through extensive networking technology, depth of experience in major real-world network environments and long-term distribution and VAR channel relationships in major world markets. Perle has offices in 9 countries in North America, Europe and Asia and sells its products through distribution and OEM/ODE channels worldwide.
Contact
pr@perle.com