February 24, 2015
Perle reports a sales growth of 16% for OOBM Serial Console Servers in 2014 vs 2013
Gartner's 2015 Data Center market growth prediction is lower that what Perle is experiencing.
NASHVILLE, TN - February 24, 2015 — Following Gartner Analysts prediction of a Worldwide IT spend on Data Center Systems to be $143 billion, which equates to a 1.8% increase from 2014¹, Perle discloses that it has experienced a significant increased demand for OOBM (Out of Band Management) solutions at Data Centers. Perle Systems, a manufacturer of advanced Serial to Ethernet and secure device networking solutions, experienced a sales growth of 16% for OOBM Serial Console Servers in 2014 vs 2013.
"Gartner's predictions come as no surprise," comments Joe Perle, Founder and CEO at Perle Systems. "Big data, cloud based computing, emerging markets in the east and the generalisation of global exchange have all contributed to Data Centre growth."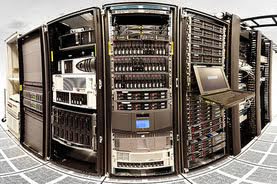 The concept of OOBM emerged in the early 1990's when IT Administrators learned they could access monitor and manage IT equipment remotely using Serial Console Servers. Corporate management supported the infrastructure changes because it reduced costs associated with lost profit, productivity and repair and dramatically decreased network downtime. Over the years the OOBM functionality of Serial Console Servers has advanced and now provides the most reliable method for diagnosis, reconfiguration and troubleshooting of data center equipment. They are used to access remote networking devices in-band, through the use of an alternate backup network dial-up or GSM wireless remote access.
"From the very beginning Perle has been a market leader in Out-of-Band-Management," continues Perle. "That is why companies like Rackspace, SoftLayer, Memset and Fortune 500 companies come to us when they need OOBM Console Servers."
Perle offers extensive OOBM Data Center resources and information about the evolution of solving critical problems of remote management on their website.
¹ "Gartner Says Worldwide IT Spending on Pace to Grow 2.4 Percent in 2015." Gartner. 12 January 2015. Web. 28 January 2015
About Perle Systems www.perle.com
Perle Systems is a leading developer, manufacturer and vendor of high-reliability and richly featured connectivity and device networking products. These products are used to connect remote users reliably and securely to central servers for a wide variety of business applications. Product lines include Console Servers, Terminal Servers, Device Servers, Media Converters, Ethernet Copper Extenders, Industrial Ethernet Switches, Ethernet I/O, Serial Cards, Parallel Cards, Remote Power Switches and Multimodem Cards. Since 1976, Perle has distinguished itself through extensive networking technology, depth of experience in major real-world network environments and long-term distribution and VAR channel relationships in major world markets. Perle has offices in 9 countries in North America, Europe and Asia and sells its products through distribution and OEM/ODE channels worldwide.
Contact
pr@perle.com