Data Center Management
In and Out of Band Access using Serial Console Servers
Running an effective IT infrastructure today often depends on accessing, monitoring, and managing IT equipment remotely. Although some equipment may be installed in the data centre, the need to support remote offices, factory floors or other unattended locations, is also important.
While specialist management software can be used for in-band remote monitoring, some tasks may seemingly be impossible unless the equipment can be physically accessed. Many devices have a serial port for making configuration changes or uploading new firmware. However, visiting remote equipment cabinets with a serial cable and laptop is a time-consuming and expensive task.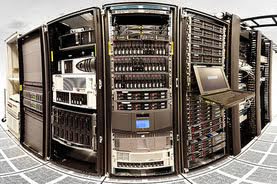 Perle Serial Console Servers bridges the distance between remote IT equipment and technical support staff. Any device with serial connections can be networked and managed remotely - even across the internet. IT managers can reduce costs and cut downtime by allowing staff remote access. This anywhere, anytime management strategy enables IT managers to look after the IT infrastructure pro-actively.
---
---
---
---
---
---
---
---
Some additional Perle Data Center Customers: