July 26, 2012
PanGeo Subsea selects Perle Device Servers as integral component in
Sub-Bottom Imager
IOLAN STS Device Servers transmit real-time data about ocean floor for hazards such as boulders, ship wrecks, and unexploded weapons to ensure safe and successful subsea pipeline routing.

NASHVILLE, TN - July 26th, 2012 — Perle Systems, a global provider of advanced serial to Ethernet and secure device networking solutions, disclosed that PanGeo Subsea selected Perle IOLAN STS4T Device Servers for integration into their Sub-Bottom Imager ™ (SBI). The SBI is a large roving device that is submerged and sent to undersea sites where oil, gas or other proposed pipelines are to be laid. It carries out detailed surveys to identify any geo hazards or debris lying on or near the proposed route. The IOLAN STS Device Server is used to relay all of the survey data back to an onshore monitoring station for analysis.
The planning and laying of a new pipeline is a complex job, especially when it is to be laid on the seabed. Mistakes made in this industry not only cost millions of dollars, but can have devastating effects on the environment and local economies. Phil Hopkins, Technical Director at Penspen Ltd., says, "The future for pipelines is both bright and challenging. They will continue to carry the bulk of our primary energy sources, but engineers will need to ensure they perform both safely and securely, as the systems continue to age." 1
PanGeo Subsea developed the SBI to measure and asses the ocean floor for hazards such as boulders, ship wrecks, and unexploded weapons like bombs and naval mines. Precise location and the delivery of images of these hazards are critical in order to advise on the optimum path for pipe laying.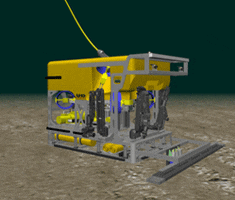 While developing the SBI, PanGeo Subsea approached Perle Systems with a number of specific requirements for a serial to Ethernet device to be used to transmit, in real time, information gathered by the sensing equipment like heading sensors, altimeters and depth sensors. It had to have software selectable RS232, RS422 and RS485 interfaces and be sub-zero temperature hardened. After extensive testing, the IOLAN SDS4T Extended Temperature Device Server was chosen and installed on-board the Sub-Bottom Imager™.
For the full story, read the Pangeo Subsea Case Study.
1 Oil and Gas Pipelines: Yesterday and Today' by Phil Hopkins
About PanGeo Subsea www.pangeosubsea.com
PanGeo Subsea produces answer products which enhance customer operations with data delivery that is straight forward and specific. With an expertise in 3D and 4D subsea acoustic imaging, PanGeo Subsea uses acoustic tools specifically designed to deliver unparalleled volumetric delineation of sub-seabed hazards and sediment variations. The company's international clients include: oil and gas (installations, decommissioning, pipeline installation and monitoring), renewable energy (foundations), military applications (Q routes and UXO detection); marine civil engineering; archaeology and mining. Corporate headquarters and technology development are located in St. John's, Newfoundland, Canada, with global operations and business development in Aberdeen, United Kingdom.
About Perle Systems www.perle.com
Perle Systems is a leading developer, manufacturer and vendor of high-reliability and richly featured connectivity and device networking products. These products are used to connect remote users reliably and securely to central servers for a wide variety of business applications. Product lines include Console Servers for Data Center Management, Terminal Servers, Device Servers, Remote Power Switches, Media Converters, Ethernet I/O, Serial Cards, Parallel Cards and Multimodem Cards. Perle distinguishes itself through extensive networking technology, depth of experience in major real-world network environments and long-term distribution and VAR channel relationships in major world markets. Perle has offices in 9 countries in North America, Europe and Asia and sells its products through distribution and OEM/ODE channels worldwide.