Jorin and Perle Join Forces to Reduce Oil Pollution in the Water Supply
To monitor water pollution produced during industrial production processes, Jorin uses Perle Media Converters to transmit Gigabit IP Camera images over fiber in high temperature environments.
NASHVILLE, TN - March 17, 2015 — Perle Systems, a manufacturer of advanced Ethernet over Fiber and secure device networking solutions, reveals that Perle Media Converters have been integrated into Jorin's Visual Process Analyzer (ViPA). ViPA instruments provide real-time analysis of particles, droplets and bubbles in water produced during industrial production processes.
"As an ISO 14001 certified company, we are serious about minimizing harmful effects on the environment." "We are excited to partner with Jorin and be part of a system that has a real impact on reducing pollution."
With increasing environmental pressures for the re-use of process waters, industrial water users in the oil and gas sector turn to organizations like Jorin for a better way to monitor their water treatment process.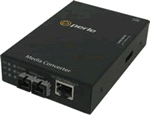 During a system refresh, Jorin decided to upgrade to a Gigabit IP camera to provide more accurate data output of the water filmed as it passes through a flow cell. The live stream is transmitted to a PC installed with Jorin software for analysis of oil, solid and other non-dissolved contaminants in the water. With this data alerts are issued, commands are triggered and multitude of custom reports are produced.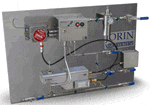 Since much of the world's oil and gas production happens in desert like conditions, the Gigabit IP camera and attached Fiber Media Converter needed to be able to withstand high temperatures.
"There are many products on the market claiming to operate at 175F but, they use commercial-grade parts that have not been qualified by the manufacturer to operate at that temperature," says Perle. "When these commercial parts are exposed to extremely high temperatures, product failures that stop all data communications are inevitable. This is why all Perle Industrial Temperature Media Converters use only components that are fully qualified and rated to operate in -40F to +175F."
Jorin integrated ruggedized 10/100/1000 Media Converters into their Visual Process Analyzers which fulfilled their requirements for connectivity, extended temperature specifications and compact physical size.
For more details, read the full Jorin Case Study.
About Jorin www.jorin.co.uk
Jorin Limited is a UK instrumentation company, designing and manufacturing on-line particle analysis systems based on video imaging technologies. Jorin's aim is provide critical process data, enabling their users to optimise their process performance and realise their full potential. Founded in 1998, Jorin has developed the process expertise that both drives developments in their instrument brands including ViPA, LaVA, InVA, and underpins their oilfield water management consultancy brand, Process Insight.
About Perle Systems www.perle.com
Perle Systems is a leading developer, manufacturer and vendor of high-reliability and richly featured connectivity and device networking products. These products are used to connect remote users reliably and securely to central servers for a wide variety of business applications. Product lines include Console Servers, Terminal Servers, Device Servers, Media Converters, Ethernet Copper Extenders, Industrial Ethernet Switches, Ethernet I/O, Serial Cards, Parallel Cards, Remote Power Switches and Multimodem Cards. Since 1976, Perle has distinguished itself through extensive networking technology, depth of experience in major real-world network environments and long-term distribution and VAR channel relationships in major world markets. Perle has offices in 9 countries in North America, Europe and Asia and sells its products through distribution and OEM/ODE channels worldwide.
Contact
pr@perle.com