May 02, 2014
Perle IDS-105F Industrial Ethernet Switch obtains FCC Class B Certification
The IDS-105F DIN Rail Switch is the first and only on the market designed and optimized to the strict emissions testing level that qualifies for Class B Certification.
NASHVILLE, TN - May 02th, 2014 — Perle Systems, a global manufacturer of Industrial-grade Ethernet Switches and secure device networking solutions, announces the first FCC Class B certified Industrial Ethernet Switch.
All electronic products sold in the United States are required by the Federal Communication Commission (FCC) to tested and marked showing that the product complies with emissions and immunity standards. Most products regulated by FCC 47 Part 15, into one of two categories – Class A or Class B.
Class B limits are more stringent than Class A limits and the Class B certification process is administratively more rigorous than the Class A verification process.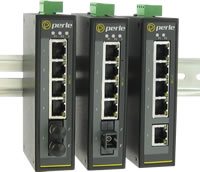 "Until now, there has never been an Industrial Ethernet Switch designed and optimized to the strict emissions testing level that qualifies for Class B Certification," says John Feeney, COO at Perle Systems. "The IDS-105F DIN Rail Switch is the first and only one on the market that can be sold for use in areas that require especially low emissions so that there is no frequency interference with other equipment."
Industrial-grade Ethernet Switches are specially designed to stand up to the extreme temperatures, vibrations, and shocks found in industrial automation, government, military, marine, rail, oil and gas, mining and outdoor applications. With over 200 models, Perle has the broadest range of Unmanaged Industrial Switches available on the market today.
Perle DIN Rail Ethernet Switches are available for commercial temperature ranges as well as Industrial Extended temperatures. Every component on every industrial model has been designed and tested to handle operating temperatures between -40 and 75C.
All Perle Industrial Ethernet Switches have a corrosion resistance IP30 aluminum case and dual redundant power input with reverse polarity and overload protection. In addition, they only use high-end components from the leading chip manufacturers to ensure the highest level of durability and reliability.
Perle has been designing industrial hardware for over 35 years and have used this expertise to design the toughest Ethernet switches on the market.
About Perle Systems www.perle.com
Perle Systems is a leading developer, manufacturer and vendor of high-reliability and richly featured connectivity and device networking products. These products are used to connect remote users reliably and securely to central servers for a wide variety of business applications. Product lines include Console Servers, Terminal Servers, Device Servers, Media Converters, Ethernet Copper Extenders, Industrial Ethernet Switches, Ethernet I/O, Serial Cards, Parallel Cards, Remote Power Switches and Multimodem Cards. Since 1976, Perle has distinguished itself through extensive networking technology, depth of experience in major real-world network environments and long-term distribution and VAR channel relationships in major world markets. Perle has offices in 9 countries in North America, Europe and Asia and sells its products through distribution and OEM/ODE channels worldwide.
Contact
pr@perle.com