IDS-105F Industrial Ethernet Switch
5 port Compact DIN Rail Switch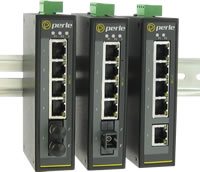 4 port 10/100Base-TX ( RJ45 ) with an SC/ST fiber port
Hazardous Location and Industrial Control Equipment Certification
Corrosion resistant IP30 aluminum case
Redundant dual power input 12/24/48 VDC, 18 to 30 VAC
Overload current and reverse polarity protection
Industrial operating temperature support up to -40 to 75C
Perle Industrial-grade Ethernet Switches are designed for industrial automation, government, military, oil and gas, mining and outdoor applications.
The IDS-105F 5 port Industrial Ethernet Switch provides advanced performance and enables real-time deterministic network operation. It requires no configuration and will instantly operate as soon as you power it up.
The IDS-105F, which comes in a variety of models, are rugged fanless switches that are hardened to provide superior reliability in 0 to 60°C, or harsh extended operating temperatures from -40 to 75°C.
Perle has been designing industrial hardware for serial ModBus and Profinet to Ethernet conversion environments for over 35 years and have used this expertise to design the toughest Ethernet switches on the market. Don't trust your critical communications to commercial switch products. Perle Industrial Ethernet switches give you proven assurance that your system will keep running for years to come.
IDS-105F Industrial Ethernet Switch Features
Rugged design for harsh environments

Corrosion resistant IP30 aluminum case
UL508A Industrial Control Equipment Safety certified
Hazardous locations - Class1/Div2, ATEX class 1 / Zone 2

Reliable operation

Fanless, no moving parts
Dual power input. Connect to separate power sources for redundancy.

Reverse polarity protection
Overload current protection

Real-time Ethernet performance

Fast wire-speed , store and forward switching, non-blocking architecture
Auto-sensing for speed and duplex
Auto-mdi/mdix-crossover works with straight and crossover cables

FCC Class B Certification

The first and only DIN Rail Switch on the market that can be sold for use in areas that require especially low emissions.
No frequency interference with other equipment.
Power
Dual
Power
Input
Both inputs draw power simultaneously. If one power source fails, the other live source can, acting as a backup, supply enough power to meet the operational needs of the switch.

12/24/48 VDC Nominal. (9.6 to 60 VDC)
18 to 30 VAC
Power
4-Pin Removable Terminal Block.
Connector
Grounding screw on metal chassis
Maximum Current Consumption
@24 vDC
140 mA
Maximum Power
Consumption
@24 vDC
3.4 Watts
Overload
Current
Protection
Reset-able fuse provides overload current protection
Reverse
polarity
protection
The positive and negative inputs can be reversed providing safe and simple power connectivity.
Access Ports
RJ45
4 shielded RJ45 ports for 10/100Base-TX up to 100 meters (328 ft)
Auto-negotiation
Auto-MDI/MDIX-crossover for use with either crossover over straight-through cable types
Ethernet isolation 1500 V
Fiber port
1 x fixed fiber port
Duplex SC or ST connector


Multimode 50/125 or 62.5/125 micron fiber cable
Single mode 9/125 micron fiber cable

Simplex (BIDI, single strand) SC connector


Multimode 50/125 or 62.5/125 micron fiber cable
Single mode 9/125 micron fiber cable

PC and UPC type patch cords supported.
Fixed
Fiber
Port
Specs

Fiber1
Type
Transmit
(dBm)
Receive
(dBm)
Power
Budget
(dB)
Wavelength
(nm)
IEEE
Core
Size
(um)
Modal
Bandwidth
(MHz
*Km)
Maximum
Operating
Distance
Min
Max
Min
Max
MMF
(Duplex
SC/ST)
-20.0
-12.0
-31.0
-14.0
11.0
1310
100Base-FX
50
800*
5 Km
3.1 mi
62.5
500*
4 Km
2.5 mi
62.5
200
2 Km
1.2 mi
MMF
(Simplex
SC/ST)
-15.0
0.0
-28.0
-8.0
13.0
1310 / 1550
1550 / 1310
100Base-BX-U
100Base-BX-D
62.5
200
2 Km
1.2 mi
SMF
(Duplex
SC/ST)
-18.0
-7.0
-32.0
-3.0
14.0
1310
100Base-LX
9
**
20 Km
12.4 mi
SMF
(Simplex
SC)
-14.0
-8.0
-32.0
-3.0
18.0
1310 / 1550
1550 / 1310
100Base-BX-U
100Base-BX-D
9
**
20 Km
12.4 mi
SMF
(Duplex
SC/ST)
-5.0
0.0
-34.0
-3.0
29.0
1310
100Base-EX
9
**
40 Km
24.9 mi
SMF
(Simplex
SC)
-8.0
-3.0
-33.0
-3.0
18.0
1310 / 1550
1550 / 1310
100Base-BX-U
100Base-BX-D
9
**
40 Km
24.9 mi
SMF
(Duplex
SC/ST)
-5.0
0.0
-34.0
-3.0
29.0
1550
100Base-ZX
9
**
80 Km
4.79 mi
SMF
(Duplex
SC/ST)
0.0
5.0
-35.0
-3.0
35.0
1550
100Base-ZX
9
**
120 Km
74.6 mi

* 1db/km multimode fiber cable

** as per ITU-T G.652 SMF specifications

Switch Properties
Standards

IEEE 802.3 for 10Base-T
IEEE 802.3u for 100Base-TX and 100Base-FX
IEEE 802.3x for Flow Control

Processing Type
Store and Forward, non-blocking architecture
MAC Address Table Size
1024
Packet Buffer Memory
512 Kbit
Indicators
P1
This green LED is turned on when power is applied to the power #1 input
P2
This green LED is turned on when power is applied to the power #2 input
RJ45 Ethernet
These integrated colored LEDs indicate link, activity and speed for each port.
Fiber Link
Fiber link LED indicates Link and Data Activity
Environmental Specifications
Operating Temperature Ranges
Standard temperature models : 0° C to 60° C (32° F to 140° F).
Industrial extended temperature models : -40° C to 75° C (-40 F to 167° F)
Storage Temperature Range
Minimum range of -25° C to 70° C (-13° F to 158° F). -40 C to 85 C (-40 F to 185 F) for industrial extended temperature models
Operating Humidity Range
5% to 90% non-condensing
Storage Humidity Range
5% to 95% non-condensing
Operating Altitude
Up to 3,048 meters (10,000 feet)
Chassis
Aluminum with an IP30 ingress protection rating
Din Rail Mountable
DIN Rail attachment included. Mounts to standard 35 mm DIN rail in accordance with DIN EN 60175.
Removable to accommodate optional Panel/Wall mount kit
Maximum Heat Output
11.6 BTU/Hr
MTBF
913,428 hours (without fiber module)
717,100 hours (with fiber module)
MTBF Calculation model based on MIL-HDBK-217-FN2 @ 30 °C
Product Weight and Dimensions
Weight
0.19 kg, 0.3 lbs
Dimensions
30 x 115 x 70 mm, 1.18 x 4.52 x 2.76 inches
Packaging
Shipping Weight
0.34 kg, 0.8 lbs
Shipping Dimensions
170 x 260 x 70 mm, 6.69 x 10.24 x 2.76 inches
Contents Shipped
Industrial Ethernet Switch with DIN Rail attachment
Terminal block
Installation guide
Standards and Certifications
Safety
UL/EN/IEC 62368-1
CAN/CSA C22.2 No. 62368-1
UL 60950-1
CSA C22.2 No. 60950-1
IEC 60950-1:2005+A1:2009 and
EN 60950-1:2006+A11:2009+A1:2010+A12:2011
CE Mark
UL508 (Industrial)
EMC Emissions
FCC 47 Part 15 Class B
ICES-0003
CISPR 22:2008/EN55022:2010 (Class B)
EN61000-6-4
EMC Immunity
CISPR 24:2010/EN 55024:2010
IEC/EN 61000-4-2 (ESD) : Contact discharge +/- 6kV, Air Discharge +/- 8kV
IEC/EN 61000-4-3 (RS) : 80 MHz to 2.7 Ghz ; 10V/m, 800 MHz to 1000 MHz; 20V/m
IEC/EN 61000-4-4 (EFT) : DC power line +/- 2 kV, Data Line +/- 2kV
IEC/EN 61000-4-5 (Surge) : DC power line, Line/Line +/- 1kV, Line/Earth +/- 2kV, Data Line line/earth +/- 1kV
IEC/EN 61000-4-6 (CS) : 150kHz to 80 MHz; 10V
IEC/EN 61000-4-8 (Magnetic Field): 30 A/m
IEC/EN 61000-6-2 (General Immunity in Industrial Environments)
Industrial Safety
UL508 (Safety standard for Industrial Control Equipment)
CSA C22.2 No. 142
Hazardous Locations
(Hazloc)
ANSI/ISA 12.12.01, Class I Division 2 Groups A-D (formerly known as UL 1604)
CSA C22.2 No. 213
ATEX Class I Zone 2, EN60079-0,15
Laser Safety
EN 60825-1
Fiber optic transmitters on this device meet Class 1 Laser safety requirements per IEC-60825 FDA/CDRH standards and comply with 21CFR1040.10 and 21CFR1040.11.
Environmental
Reach, RoHS and WEEE Compliant
Other
ECCN: 5A991
HTSUS Number: 8517.62.0020
5 year warranty
IDS-105F with Standard DIN Rail
Click on image to see larger version
IDS-105F with Optional Wall/Panel Mount Brackets
Click on image to see larger version
IDS-105F Industrial Switch Diagram
Single Mode / Single Strand ( WDM ) Fiber
Connecting devices over a single fiber strand ( also referred to as "Bi-Directional" BiDi or Simplex)
To reduce costs, or where there are limits on available fiber, Wavelength-Division Multiplexing (WDM) technology may be utilized. WDM uses separate transmit and receive frequencies to communicate on a single fiber strand. WDM technology relies on the fact that optical fibers can carry many wavelengths of light simultaneously without interaction between each wavelength. Thus, a single fiber can carry many separate wavelength signals or channels simultaneously. WDM systems are divided into different wavelength patterns, conventional/coarse (CWDM) and dense (DWDM).
When Single Strand fiber is used, you will need an "Up" side and a "Down" side when interconnecting fiber devices.
Perle offers a wide variety of Single Fiber ("Up/Down") Ethernet Switches and Media Converters for use with single strand of fiber.
Select a Model to obtain a Part Number – IDS-105F
Std = Standard Temperature models : 0° C to 60° C (32° F to 140° F).
Ind = Industrial Extended Temperature Models : -40° C to 75° C (-40 F to 167° F)
Models with 4 x 10/100Base-TX (RJ45) Connectors

Model

Temp

Choose your Fiber Connection from the table below
100Base-X Duplex Fiber

Fiber
Connector

Transmit
(dBm)

Receive
(dBm)

Power
Budget
(dB)

Wavelength
(nm)

Fiber
Type

Operating
Distance

Min

Max

Min

Max

IDS-105F-M2SC2
Std
1 x Duplex SC
-20.0
-12.0
-31.0
-14.0
11.0*
1310
MMF
5 km*
(3.1 mi)
IDS-105F-M2SC2-XT
Ind
1 x Duplex SC
-20.0
-12.0
-31.0
-14.0
11.0*
1310
MMF
5 km*
(3.1 mi)
IDS-105F-M2ST2
Std
1 x Duplex ST
-20.0
-12.0
-31.0
-14.0
11.0*
1310
MMF
5 km*
(3.1 mi)
IDS-105F-M2ST2-XT
Ind
1 x Duplex ST
-20.0
-12.0
-30.0
-14.0
10.0*
1310
MMF
5 km*
(3.1 mi)
IDS-105F-S2SC20
Std
1 x Duplex SC
-18.0
-7.0
-32.0
-3.0
14.0
1310
SMF
20 km
(12.4 mi)
IDS-105F-S2SC20-XT
Ind
1 x Duplex SC
-18.0
-7.0
-32.0
-3.0
14.0
1310
SMF
20 km
(12.4 mi)
IDS-105F-S2ST20
Std
1 x Duplex ST
-18.0
-7.0
-32.0
-3.0
14.0
1310
SMF
20 km
(12.4 mi)
IDS-105F-S2ST20-XT
Ind
1 x Duplex ST
-18.0
-7.0
-32.0
-3.0
14.0
1310
SMF
20 km
(12.4 mi)
IDS-105F-S2SC40
Std
1 x Duplex SC
-5.0
0.0
-34.0
-3.0
29.0
1310
SMF
40 km
(25 mi)
IDS-105F-S2SC40-XT
Ind
1 x Duplex SC
-5.0
0.0
-34.0
-3.0
29.0
1310
SMF
40 km
(25 mi)
IDS-105F-S2ST40
Std
1 x Duplex ST
-5.0
0.0
-34.0
-3.0
29.0
1310
SMF
40 km
(25 mi)
IDS-105F-S2ST40-XT
Ind
1 x Duplex ST
-5.0
0.0
-34.0
-3.0
29.0
1310
SMF
40 km
(25 mi)
IDS-105F-S2SC80
Std
1 x Duplex SC
-5.0
0.0
-34.0
-3.0
29.0
1550
SMF
80 km
(50 mi)
IDS-105F-S2ST80
Std
1 x Duplex ST
-5.0
0.0
-34.0
-3.0
29.0
1550
SMF
80 km
(50 mi)
IDS-105F-S2SC120
Std
1 x Duplex SC
0.0
5.0
-35.0
-3.0
35.0
1550
SMF
120 km
(75 mi)
IDS-105F-S2ST120
Std
1 x Duplex ST
0.0
5.0
-35.0
-3.0
35.0
1550
SMF
120 km
(75 mi)
* 1db/km multimode 50/125 micron fiber cable
Models with 4 x 10/100Base-TX (RJ45) Connectors

Model

Temp

Choose your Fiber Connection from the table below
100Base-X Simplex (BiDi) Fiber

Fiber
Connector

Transmit
(dBm)

Receive
(dBm)

Power
Budget
(dB)

Wavelength
(nm)

Fiber
Type

Operating
Distance

Min

Max

Min

Max

IDS-105F-M1SC2U
Std
1 x Simplex SC
-15.0
0.0
-28.0
-8.0
13.0
1310 / 1550
MMF
2 km
(1.2 mi)
IDS-105F-M1SC2D
Std
1 x Simplex SC
-15.0
0.0
-28.0
-8.0
13.0
1550 / 1310
MMF
2 km
(1.2 mi)
IDS-105F-M1ST2U
Std
1 x Simplex ST
-15.0
0.0
-28.0
-8.0
13.0
1310 / 1550
MMF
2 km
(1.2 mi)
IDS-105F-M1ST2D
Std
1 x Simplex ST
-15.0
0.0
-28.0
-8.0
13.0
1550 / 1310
MMF
2 km
(1.2 mi)
IDS-105F-S1ST20U
Std
1 x Simplex ST
-14.0
-8.0
-32.0
-3.0
18.0
1310 / 1550
SMF
20 km
(12.4 mi)
IDS-105F-S1ST20D
Std
1 x Simplex ST
-14.0
-8.0
-32.0
-3.0
18.0
1550 / 1310
SMF
20 km
(12.4 mi)
IDS-105F-S1SC20U
Std
1 x Simplex SC
-14.0
-8.0
-32.0
-3.0
18.0
1310 / 1550
SMF
20 km
(12.4 mi)
IDS-105F-S1SC20D
Std
1 x Simplex SC
-14.0
-8.0
-32.0
-3.0
18.0
1550 / 1310
SMF
20 km
(12.4 mi)
IDS-105F-S1SC20U-XT
Ind
1 x Simplex SC
-14.0
-8.0
-32.0
-3.0
18.0
1310 / 1550
SMF
20 km
(12.4 mi)
IDS-105F-S1SC20D-XT
Ind
1 x Simplex SC
-14.0
-8.0
-32.0
-3.0
18.0
1550 / 1310
SMF
20 km
(12.4 mi)
IDS-105F-S1SC40U
Std
1 x Simplex SC
-8.0
-3.0
-33.0
-3.0
25.0
1310 / 1550
SMF
40 km
(25 mi)
IDS-105F-S1SC40D
Std
1 x Simplex SC
-8.0
-3.0
-33.0
-3.0
25.0
1550 / 1310
SMF
40 km
(25 mi)