November 06, 2013
York University Field Robotics Research Network use Perle Media Converters
Perle Gigabit Media Converters provide power, access and control of robot test areas located
across the York University Keele campus.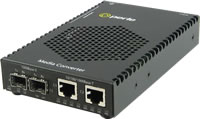 NASHVILLE, TN - November 06th, 2013 — Perle Systems, a global provider of advanced Ethernet over fiber and secure device networking solutions, reveals that Canada's third largest University, York University, chose Perle PoE Gigabit Media Converters to provide fiber to copper conversion and Power over Ethernet to strategically located WLAN Access Points (AP's) across their campus.
The Canadian Centre for Field Robotics (CCFR), which is part of York University, was interested in determining the navigational capabilities of various robots spread over much of their Keele campus. To do this they needed to build a fully instrumented and networked outdoor test area for robot field trials. For network access numerous WLAN APs fed by Single mode Fiber were deployed. Copper cable could not be utilized due to the 100 meter data transmission distance limitation. Various options were considered for powering the AP's. After taking into account budgetary concerns and product testing, York University decided to use a media converter with one fibre port and two copper ports.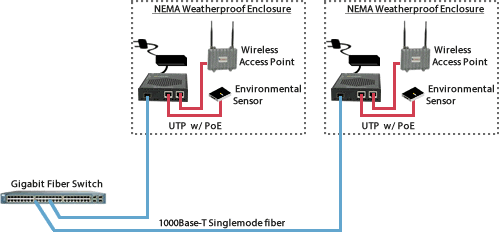 Having used Perle products in the past, James Savage, Senior Communications Technician for University Information Technology contacted Perle. He needed a media converters with an on-board processor that would continuously monitors that both the copper and fiber connections are up.
By meeting all specifications and passing lab tests, Perle S-1110 PoE Media Converters were selected for the job. After installation James Savage commented, "It was simply plug-and-play with the Perle multiport media converter... it appears to do exactly what we were looking for."
To learn more, read the full York University use Perle Media Converters in Field Robotics Research Network Case Study.
About York University: www.yorku.ca
York University is helping to shape the global thinkers and thinking that will define tomorrow. York is Canada's third largest university with a commitment to excellence which reflects a rich diversity of perspectives and a strong sense of social responsibility that sets us apart. As a globally recognized research centre, York is fully engaged in the critical discussions that lead to innovative solutions to the most pressing local and global social challenges. York's 11 faculties and 28 research centres are thinking bigger, broader and more globally, partnering with 288 leading universities worldwide. York's community is strong — 55,000 students, 7,000 faculty and staff, and more than 250,000 alumni.
About Perle Systems www.perle.com
Perle Systems is a leading developer, manufacturer and vendor of high-reliability and richly featured connectivity and device networking products. These products are used to connect remote users reliably and securely to central servers for a wide variety of business applications. Product lines include Console Servers, Terminal Servers, Device Servers, Media Converters, Ethernet Copper Extenders, Ethernet I/O, Serial Cards, Parallel Cards, Remote Power Switches and Multimodem Cards. Since 1976, Perle has distinguished itself through extensive networking technology, depth of experience in major real-world network environments and long-term distribution and VAR channel relationships in major world markets. Perle has offices in 9 countries in North America, Europe and Asia and sells its products through distribution and OEM/ODE channels worldwide.
Contact
pr@perle.com