September 06, 2012
Avis Budget Chooses Perle Console Servers to Ensure Network Uptime
Perle IOLAN SDS3M Console Servers are selected for remote network access by Avis Budget to ensure their new Telco provider can deliver Service Level Agreement (SLA) uptimes
NASHVILLE, TN - September 06th, 2012 — Perle Systems, a global provider of advanced serial to Ethernet and secure device networking solutions, reveals that Avis Budget chose Perle Console Servers to give remote network access to their new Telco provider.
The Telco provider is required to monitor the network at each Avis Budget retail outlet to ensure it is constantly up and running. When a disruption is detected it is critical for the Telco to determine from where the problem is originating. The first step is to check the network at the Avis Budget outlet for power outages or malfunctions of a switch or router. To do this, and as a condition of the Service Level Agreement (SLA), Avis Budget instructed the Telco to install Perle IOLAN SDSM Console Servers with an integrated V.92 Modem. This allows the Telco to access the network over IP, or dial-up modem connection, and carry out initial network diagnostics. By accessing the network remotely, the Telco is able to monitor and manage various Cisco routers and switches on the network and decide if a maintenance truck needs to be sent to the site.
John Feeney, Chief Operating Office at Perle Systems, explains, "While Avis Budget is only interested in network uptime, the Telco needs to meet its obligations with a minimum number of truck rolls, which are expensive and time consuming."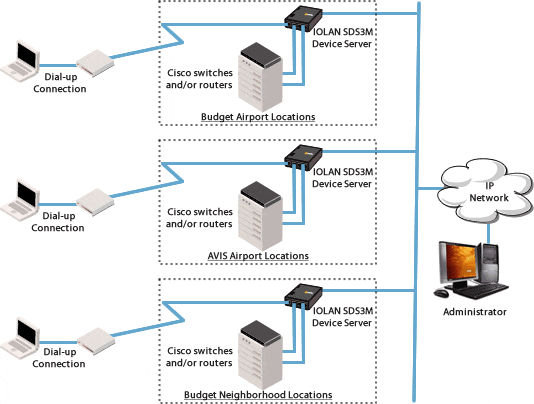 Perle IOLAN SDSM Console Servers are now the primary access points for remote console management of the Avis Budget network via IP or dial-up modem connection. They serve as a critical component to ensure the SLA commitments of the telecommunications company are met and the Avis Budget corporate network uptime is maximised.
To learn more, read the full Avis Budget Chooses Perle Console Servers Case Study.
Avis Budget Group, Inc.
Avis Budget Group, Inc. is a leading global provider of vehicle rental services through its Avis and Budget brands, with 10,000 rental locations in approximately 175 countries around the world. Avis Budget Group operates most of its car rental offices in North America, Europe and Australia directly, and operates primarily through licensees in other parts of the world. Avis Budget Group has approximately 29,000 employees and is headquartered in Parsippany, N.J. For more information, visit www.avisbudgetgroup.com.
About Perle Systems www.perle.com
Perle Systems is a leading developer, manufacturer and vendor of high-reliability and richly featured connectivity and device networking products. These products are used to connect remote users reliably and securely to central servers for a wide variety of business applications. Product lines include Console Servers for Data Center Management, Terminal Servers, Device Servers, Remote Power Switches, Media Converters, Ethernet I/O, Serial Cards, Parallel Cards and Multimodem Cards. Perle distinguishes itself through extensive networking technology, depth of experience in major real-world network environments and long-term distribution and VAR channel relationships in major world markets. Perle has offices in 9 countries in North America, Europe and Asia and sells its products through distribution and OEM/ODE channels worldwide.