September 9, 2010
Perle Systems Launches Managed Media Converter Solution
A managed media converter solution that provides complete secure monitoring and configuration of media converters to assist in the resolution of fiber network problems.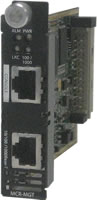 NASHVILLE, TN - September 9, 2010— Perle Systems, a global provider of advanced fiber to Ethernet and secure device networking solutions, today announced a full range of Managed Media Converter Modules for end-to-end fiber to Ethernet conversion. The combination of up to 18 Managed Media Converters and one Media Converter Management Module in a chassis allows secure configuration and monitoring of all copper and fiber ports.
The use of chassis-based media converters is a cost effective means of providing fiber connectivity in large enterprises and campus environments where multiple points of fiber integration are essential. The addition of a managed media converter solution can provide complete secure monitoring and configuration of every media converter in the chassis from a centralized system.
"By using standards based tools such as SNMP, Telnet, SSH and internet browsers, enterprises can centrally manage fiber to Ethernet links." said John Feeney, COO of Perle Systems. "This ensures that the IT personnel are promptly alerted of all critical events that will assist them in resolving any fiber network problems."
A Perle Managed Media Converter solution gives enterprises the ability to manage their Ethernet to fiber network by gathering link statistics, performing loopback tests and monitoring critical media converter chassis resources.
Perle's Managed Media Converter Modules include an extensive choice of full-featured solutions to connect 10BaseT, Fast Ethernet and Gigabit Ethernet to fiber. Perle's Lifetime Warranty, and the use of high-end components guarantees complete user satisfaction. And, all Perle Media Converters have an on-board microcontroller which deals with error detection and recovery.
Learn more about Perle's Media Converters.
About Perle Systems www.perle.com
Perle Systems is a leading developer, manufacturer and vendor of high-reliability and richly featured connectivity and device networking products. These products are used to connect remote users reliably and securely to central servers for a wide variety of business applications. Product lines include Console Servers for Data Center Management, Terminal Servers, Device Servers, Remote Power Switches, Media Converters, Ethernet I/O, Serial Cards, Parallel Cards and Multimodem Cards. Perle distinguishes itself through extensive networking technology, depth of experience in major real-world network environments and long-term distribution and VAR channel relationships in major world markets. Perle has offices in 9 countries in North America, Europe and Asia and sells its products through distribution and OEM/ODE channels worldwide.
Contact
pr@perle.com